1/25 scale tinsmith figurine
*
*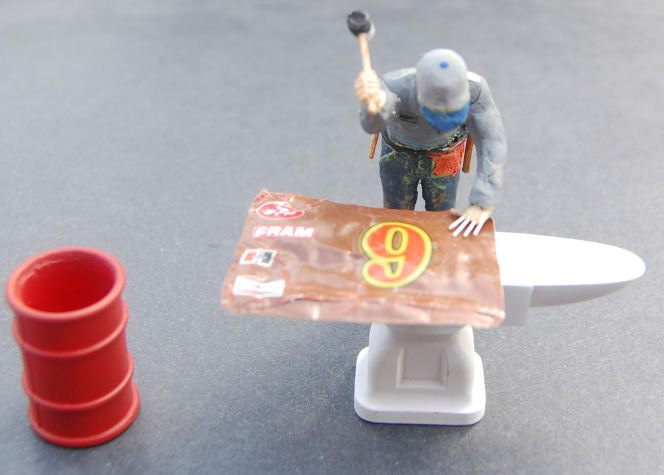 *
Some 3 or 4 years ago I had started a 1/25 scale tinsmith figurine. I worked on it for a while and there wasn't so much to be done to finish the little man but I had to craft the left hand and I wanted it with all the 5 fingers spread apart and fingers on a 1/25 scale figurine are very tiny, somewhere between 1/32nd and 1/64th of an inch wide.
For those who are not familiar with scale items, if you have a 6 feet man (72 inch tall), if you calculate his scale into the 1/25 (or 1:25) scale it gives 2.88 inches, meaning a tiny bit over 2¾ (two and three quarter) inches. Look at it on a mesuring tape or a ruler and this is the scale of this figurine. Why I build 1/25 scale stuff? Because 1/25 and also 1/24 (they are so close that you can interchange figurines and plenty of material) are the 2 most common scales on the market. Most car and truck kits on the market are 1/25 or 1/24 scale. These 2, since decades, are the most popular scales. Other scales are a lot more limited as variety of material, this is the main point and also these 2 scales fell in the range of the G scale for train stuff. In the miniature train market, 1/24 and 1/25 are also called 1/2" (1/2 inch) or HALF scale in the train or doll layouts. There is always the fact that some people or some companies are selling items that they advertise as being of a certain scale and when you come to the facts, their items are out of scale, or too big or too small. I said "some" people and companies, not all of them. It is always frustrating to buy something in a box that you can't see or order some stuff advertising a certain scale and ending up with something out of scale. I LOVE precision, so if you really want to know if something is in scale and you don't have the eye for it, you have to calculate it and see what it would give in the scale in question.
Coming back about the tinsmith figurine, I was not in the mood to craft this complicated left hand and as it comes to me so often, at some point I have a lack of courage, being a chronic depressive person.
Doing scale modeling, crafting figurines or any other item is fun, yes, but it is also on the other hand, so demanding if you are perfectionnist and want the things right on the notch. It requires patience, patience and still patience, not only patience but also courage. It is not rare that at one point, you spent all your concentration and energy and you anticipate other problems to solve, and sometimes unfortunatly a big, big one. So when a project comes too much dragging, it is better to put it aside than crushing it because of your discouragement and frustrations.
*
In the past, I have been a member of 3 different scale model clubs. One night, at a meeting, the guys started taking about hardships on projects that one day drove them crazy and most of them had a funny and sorrow story to tell about a point where they got so frustrated that they destroyed their project. Don't get me wrong, this was not an habit on any of them. They were all good modelers, but once, or twice in their lives of scale modelers, they became so mad that their projects ended up in the garbage in pieces after all the time and efforts that they had spent on them (in many cases, hours, hours and hours). One of them took his car with both hands at both ends, and twisted it till it breaks into pieces, another took his project and threw it full strenght on the wall and the pieces flew in every directions, another one took his wrist and crushed the damn project using it as a hammer, yelling at it and saying plenty of bad words. I had been laughing when I heard their stories because they tell the facts such a funny way. Up to date I have never destroyed one of my projects, not that I recall, but it went very close many times. I kicked boxes of parts, thrown tools on the wall and said many, many dirty words, but that was it. This is supposed to be a hobby, a relaxing experience, but sometimes it becomes a hardship. C'est la vie. It comes sometimes like a balance between love and hate, passion and furiousness, but to be honest, if you still keep doing it, it is because there is still this passion in you and you are like a kid, when something is captivating you. Comes a time when you are happy of what you have done. You encountered many obstacles and solved the problems.
So many times I am yelling at a damn tiny, tiny little thing that refuses to go where it is supposed to end up, to fit in its minuscule place where there is no room to put your fingers and you can't use tweesers. You get your fingers plenty of Crazy Glue and such and such other frustrating situations. It comes like waves of good and bad moments, alternating from one to the other and sometimes comes several bad waves in a row and your world comes very dark. Then sometimes some sunshine appears.
*
Coming back to this tinsmith figurine, as many of my projects, it had ended up in a box with plenty of other figurines that I had started and then left aside (you know a bit why). By the time that all of them have been in this box, and there were plenty of guys and gals, I guess that they became very acquinted alll together and started making funny jokes about me, since I had left them down in the middle of the process and suddenly dumped them carelessly one after the other in this silly box (lol).
Once in a while I return to look at my sleeping projects. There are plenty, all over, so last time I picked up this guy with the intention to finish the job on him.
At the time,I had in mind to create a small panel with 4 other hammers (I crafted 2 of them and the 3 other ones are from kits, remember that there are 5 hammers total with the one that the guy has in his right hand) that I had, and stick this little panel close to the figurine. I probably would had built some kind of stand on wheel, but 2 or 3 days ago, I had the idea to build a custom belt and install the 4 little hammers in its rings. Sometimes a new idea requires to dismantle your project and start over, at least a part of the work and do some additional modifications and this is what happened with this figurine. It is nice to have new ideas but sometimes you really wonder how it could be realized. You wonder what you are going to use as material and how you are going to perform the job. Sometimes you try something and it turns out like a real mess. Then you start over as I have done for this belt trying to avoid the errors that I have done on my first trail. The second belt turned out to be ok, but installing it around the waist of the figurine was a real nightmare and wouldn't fit perfectly well. I ended up cutting the figurine in 2 right at the belt and separated the 2 parts of the figurine.
*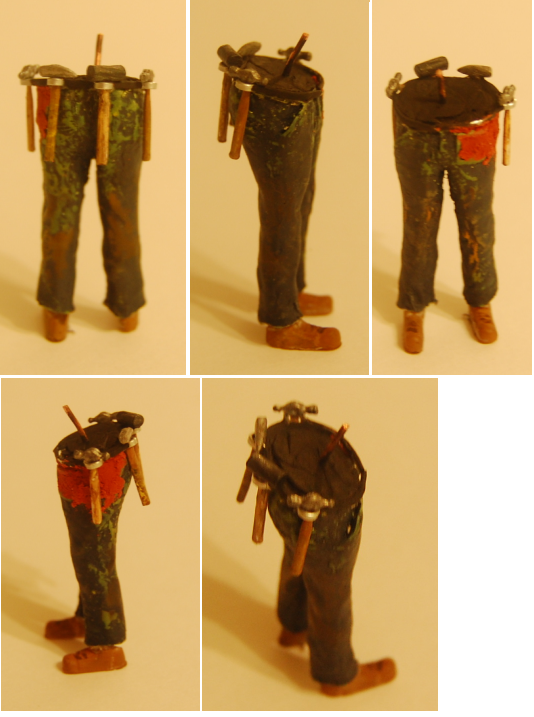 *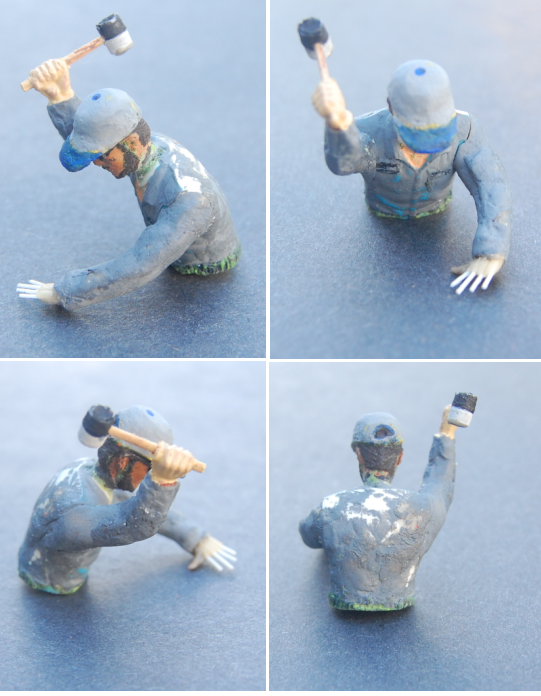 *
Then I worked the belt around the top of the pants , but I had to fill some slight gaps with putty and reshape a bit the waist to fit the belt. Then I had to install the top part of the figure and look if there was some places to rework just over the belt area. Here are some pictures with the work close to its end. There is still some paint to do as I messed up the finish, sanding and installed some little spots of putty in some areas.
*
Something a bit funny happened the other day. I went to a store and happened to find a belt of the same style of my miniature one, with big metal rings around. I have been tempted to buy it and take pictures and put them in this article but paying $18 for a belt just for taking pictures was a bit expensive for me, so I didn,t buy it.
*
The left hand that I crafted in the last days is not even painted yet.
*
On this future scenery, the tinsmith will be straightening a damages door "skin" that he removed from an old stock car racer. I have some more tinsmith equipment that I am crafting for this little diorama. Now a tinsmith and an automotive body worker have a lot in common. Both of them are working with sheetmetals and many times with the same tools and machines. So, this tinsmith could be also a body worker but I have some tools and equipments for him, as I just said, so it will set him a bit apart in his specialty in this shop. The story that I am building around this future little scene is that this guy is by profession a blacksmith, but he works in a shop where they build and repair stock car racers, so he's making a lot of body work in this shop. Putty and fibreglass are not his specialty. There are other guys for that in the garage.
*
2 times in my life I have been working in tinsmith shops, plus some courses at school, and I worked with sheetmetals on shears, benders, spot welders, rivetting, acetylen/oxygen torches, semi-automatic welding machines (mig) and so on.
*
At school we had this difficult exercise : We had to take a square piece of sheetmetal of about 12 inch by 12 inch. We had to cut the piece in circle and we had a tinsmith hammer with the round head on one side and the flat on the other side. We had a block of lead on our bench, about 1½ inch thick and about 12 inch long by 9 inch wide. We had to hammer the sheetmetal on the lead block with the round end of the hammer. This would depress the sheetmetal and strech it with a partly spherical form on the opposite face of the sheetmetal as the lead is soft, it woud mold the form of the hammer head under the impact. Repeatedly hammering and turning slowly the sheet into a circle and go progressively deeper toward the center of the sheetmetal, slowly we were forming a bowl shape with our flat circle sheetmetal piece. The teacher had a template and we would go to try our "bowl" to see how much deeper we had to work the sheetmetal, and the areas that we had to work more. If I hadn't seen it I would never had believed that we could make such a thing with a flat sheetmetal. This exercise was a basis of blacksmitting and car bodywork. I had learned it in a bodywork course, part of my mechanic course at school in the early 70s.
*
Still one of my good friend is a very good tinsmith. I am going to send him a link to this web page.
*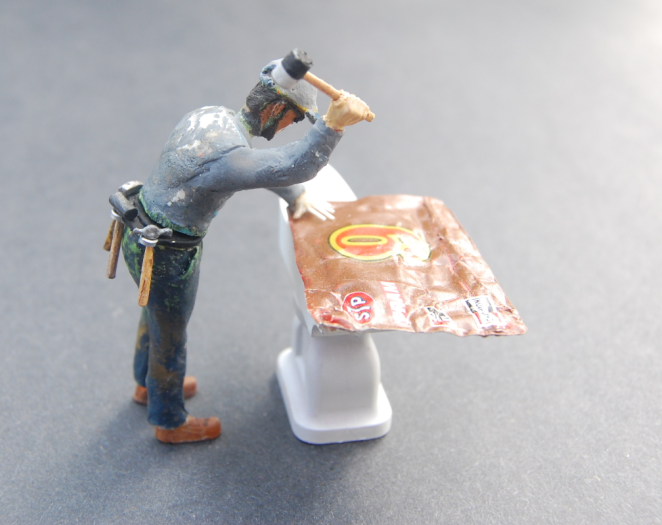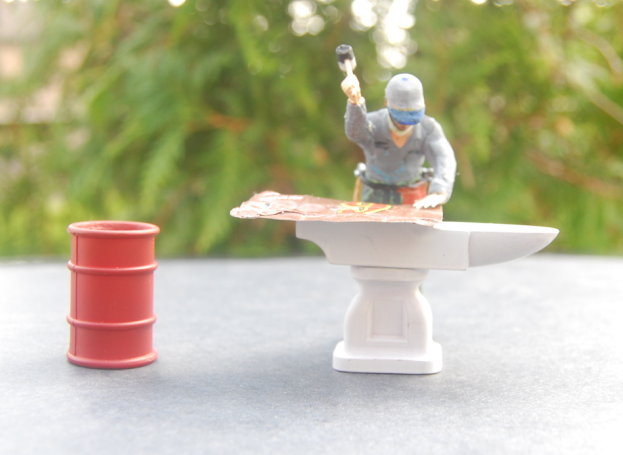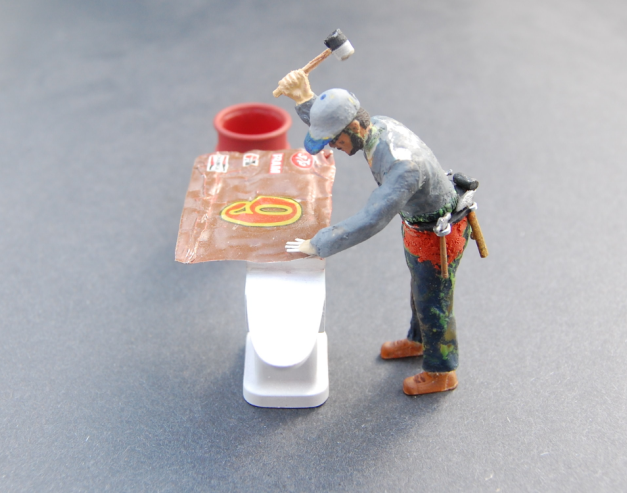 *
Any question, please ask.
Email address:
florent.beauchemin@gmail.com