My miniature friends – Creating a gardiner figurine – Mes amis miniatures – Créer une figurine jardinier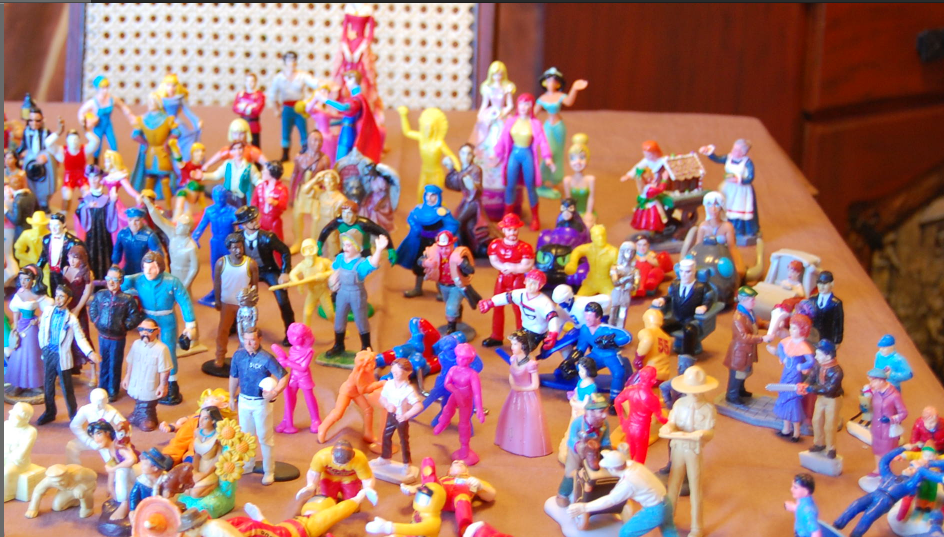 *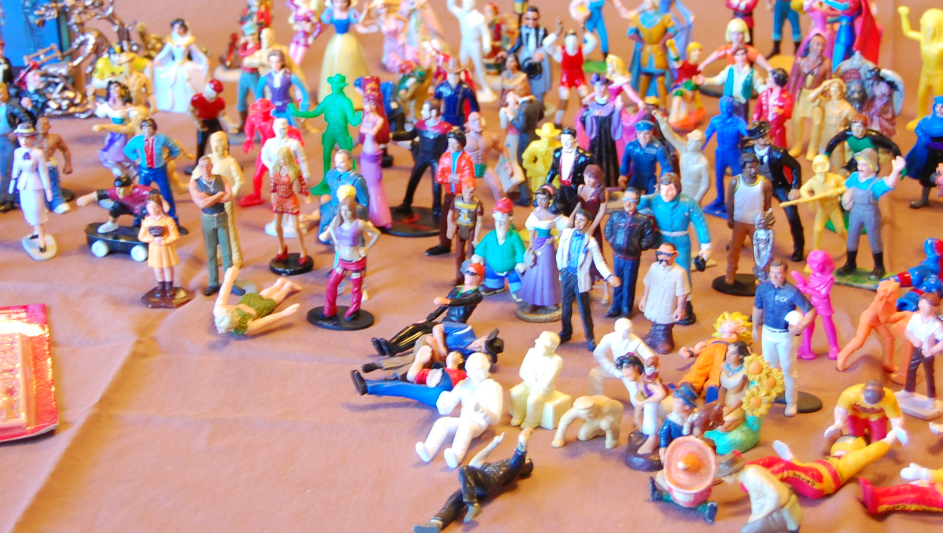 *
Here is a good part of my mini friends, my collection of figurines. Not all of them but a good part of it. I have some more in boxes and in drawers here and there and I have also some bigger scale figurines not shown on these pictures. All the ones on these 2 pictures are in their original condition, non modified. The ones that I created or that I modified are not in this bunch.
*
When I want to create a scenery with miniature people. At first, I have some crude ideas of what I want but I need to stimulate my imagination so I start improvising my diorama roughly with some figures that I choose on the moment and with the time more ideas are coming. Then I start to refine my project. In this case all this bunch of little people is extremely useful. You never have enough of them. Once in a while I go to some garage sales, flea markets, bazaars or at Value Village or the Salvation Army and I buy figurines. This is where I get the best deals because buying on ebay is very expensive if you count the shipping. Some places like Value Village sell their figurines in a bunch at random in a little transparent bag, so is you want one or two of them you have to buy the bag and buy also the ones that you don't want. Still a bag of figurines is a lot cheaper than buying on ebay. Some figurines, whenever they are grotesque, I mean not to real human proportions like an enormous nose way exagerated, but sometimes these characters are inspiring because of the way their body is oriented, their members are disposed or the movement that they simulate as a figurine. Then they are very useful as a model to imitate. You look at them and start to build your own figure according to their gesture, or at least sometimes just a part of their body.
You can also get some inspiration by looking at pictures or drawings but a 3 dimentional figure can be turned every way and seen on any angle so it is extremely useful when you want to create something from scratch. At the same time you also learn human anatomy.
*
We all start one day in this life to try doing something for the first time and for me the first figurine that I crafted was a styrene figure that I heated and bent, and then one leg, and after I modified the 2 arms. Fortunatly for me it turned out good so I was encouraged to try other things and experiment other material and techniques.
Sometimes I happen to use some figurines just like they came from the factory, depending on my needs, but when you get more experience you like to try to create your own figures, something out of the ordinary, of the déjà vu,  so for the least you want to modify them and give them a new look. In many cases I have to modify a figurine to suit my needs and in some other cases they need extensive work, or squarely building them from scratch.
Sometimes I need a figurine bent such a way, with the left hand placed in such or such position, and the right hand grabbing a tool, whit the head in such and such position. You figure out that the figurine is doing a work and is looking at it, concentred at its work just like a human being would do. So you need a figurine that suits special requirements and it is not rare too that the closest figure to your needs is out of scale or too grotesque, rough or whatever. In this situation I build a squeleton with a copper wire and I start building a figurine from scratch with some plastic paste. At the biginning the figurine is very crude, then one step after the other it comes better. Sometimes there is a need for some adjustments along the process and I have to make some cuts, or break a piece and re-shape it. This is a long process and I am not a fast worker. (see more pictures and texts below)
*
*
Voici une bonne partie de mes minis amis, ma collection de figurines. Elles n'apparaissent pas toutes sur ces 2 photos car j'en ai d'autres dans des boîtes et dans des tiroirs et mes figurines de plus grandes échelles n'y figurent pas non plus. Celles apparaissant sur ces photos sont non modifiées, telles qu'on les achète sur le marché. Celles que j'ai modifiées ou crées n'apparaissent pas sur ces 2 photos. De temps à autre je vais dans les ventes de garage, les bazars et les marchés aux puces et je trouve occasionnellement des figurines. Ce sont les endroits les moins chers pour trouver ce genre de chose car les figurines sur ebay se vendent très cher et on doit en plus payer pour l'envoi de la marchandise.
*
Quand je veux construire une scène miniature avec des figurines, en premier j'ai souvent une idée plus ou moins vague du projet que je veux réaliser. J'ai besoin d'un plus d'inspiration pour stimuler mon imagination, ainsi, une collection de figurines n'est jamais trop grande car plus on en a et plus on a des chances de trouver ce dont on a besoin. On a souvent besoin d'une figurine qui aurait telle ou telle position. Une main ici, le corps penché légèrement ou très penché, un peu de côté, debout ou à genoux selon le cas. On a besoin disons, d'une figurine qui a la tête regardant dans telle ou telle direction, la main droite agrippant tel outil ou tel autre objet et ainsi de suite. Parfois, quand on est chanceux, une figurine fait l'affaire sans aucune modification mais souvent elle a besoin de modifications pour faire l'affaire et dans certains cas ça demande un travail assez intensif. Il n'est pas rare qu'une figurine soit intéressante mais inutilisable à cause que son échelle est incompatible, qu'elle est trop grotesque, ou pour d'autres raisons mais parfois elle est quand même très utile du point de vue inspiration et comme modèle. Alors je dois fabriquer un squelette avec des tiges de cuivre. Pour cela j'utilise du fil électrique à un seul brin et la plupart du temps j'enlève la gaine sur le fil, puis je fabrique la figurine avec de la pâte plastique. Cela se fait en plusieurs étapes et demande beaucoup de travail. Au début la figurine est très grossière et au fur et à mesure des étapes de travail elle prend de plus en plus forme. parfois il faut faire des réajustements et encore de la finition. C'est un travail long qui demande de la patience et je ne suis pas un travailleur rapide. Pour la finition j'utilise du mastic de finition pour carrosseries d'automobiles.
*
On commence tous un jour quelque part et la première figurine que j'ai modifiée était en styrène et je l'ai chauffée pour la plier. Ensuite je lui ai plié une jambe en utilisant la même méthode. Les bras et les épaules, cependant, m'ont demandé beaucoup plus de travail. Néanmoins cette première expérience avait bien fonctionné et encouragé par le résultat j'ai entrepris d'autres projets de modifications de figurines en essayant des techniques différentes et des matériaux différents. De fil en aiguille cela m'a amené à tenter toujours plus, à fabriquer des figurines presque entières à fabriquer des mains, des souliers, des chapeaux et à modifier des visages et c'est ainsi qu'on apprend, au fur et à mesure, avec des réussites et des échecs. À la longue, on apprend des trucs, on se perfectionne des outils.
*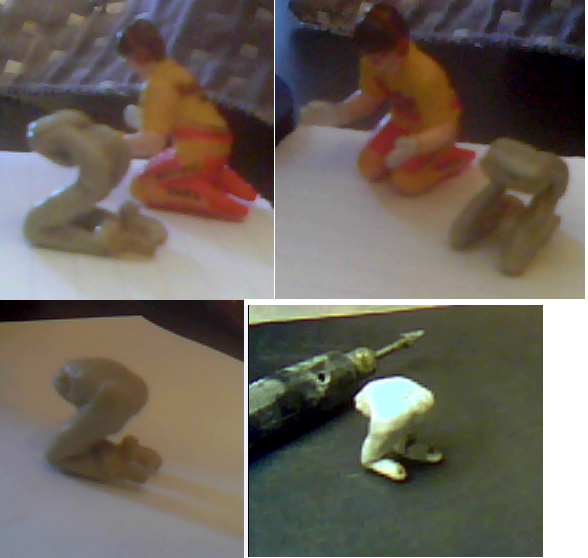 *
I wanted to create a gardiner for a park diorama that we started months ago. I wanted him to be on his knees, putting flowers in the soil. The closest figure that I had was too big and I wanted my figure more bent, closer to the ground, with some flowers in one hand and the other hand on the ground. So, I used the other figurine as a model and looking at it I created a squeleton and Installed some plastic paste on it. As I mentioned earlier, at the biginning the figurine is very rough and it needs a lot of work. This has to be done in several steps of applying plastic paste in some areas, removing some plastic with a dremel, files, knives, adding some finishing compound (glazing), sandings and so on. (more pics below)
*
*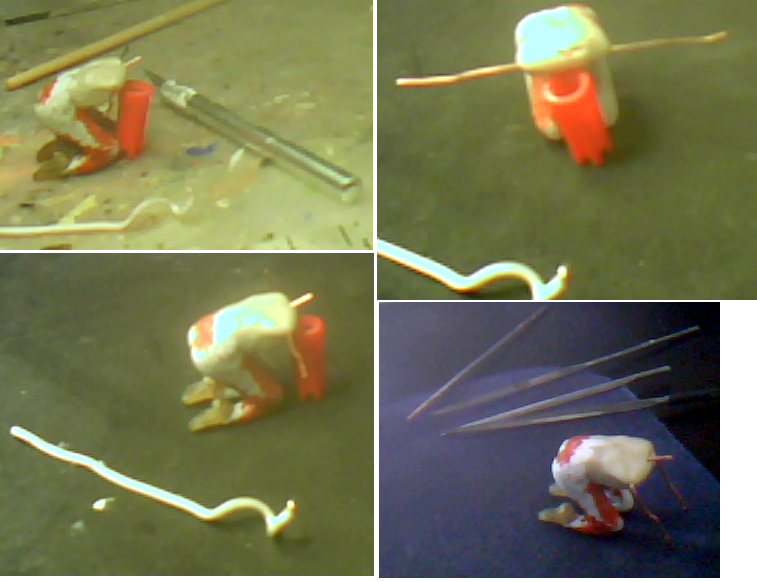 *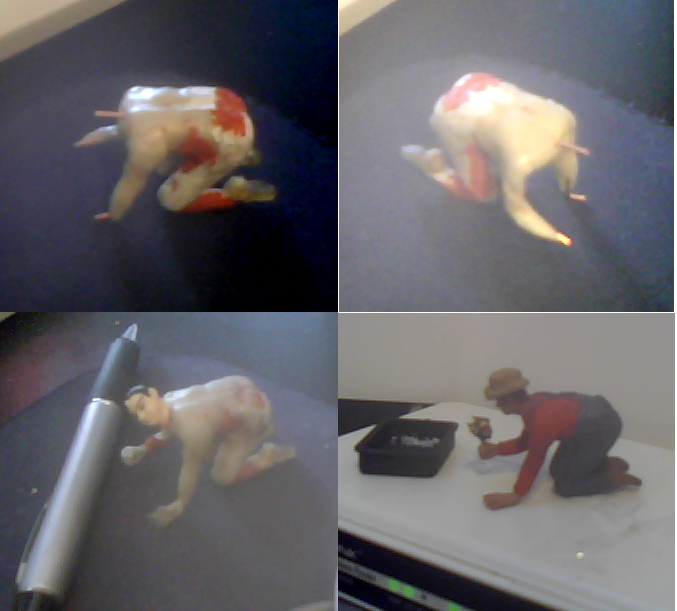 *
Je voulais créer un jardinier pour un diorama de parc que nous avons commencé il y a des mois. Je voulais ma figurine à genoux sur le sol, des fleurs dans une main et l'autre main appuyée au sol. La figurine qui ressemblait le plus à ce que je voulais n'était pas assez courbée et était de toute manière trop grosse pour mes besoins. J'ai donc dû fabriquer un squelette avec une tige de cuivre et y installer de la pâte plastique, et ensuite la travailler des sorte qu'elle finisse par ressembler grossièrement à la forme que je désirais. Il fallait alors la laisser durcir pour pouvoir la travailler de nouveau. Comme je l'ai mentionné plus haut, cela se fait en plusieurs étapes, demande de la patience et beaucoup de travail.
Si vous avez des questions ou des commentaires n'hésitez pas à me contacter
Florent Beauchemin
Mon adresse courriel :
florent.beauchemin@gmail.com
*
If you have any comment or any question feel free to contact me.
Florent Beauchemin
My email address :
florent.beauchemin@gmail.com