2 – Some pieces that I crafted (among many, many other ones)- Des pièces que j'ai fabriquées (parmi beaucoup, beaucoup d'autres)
*
*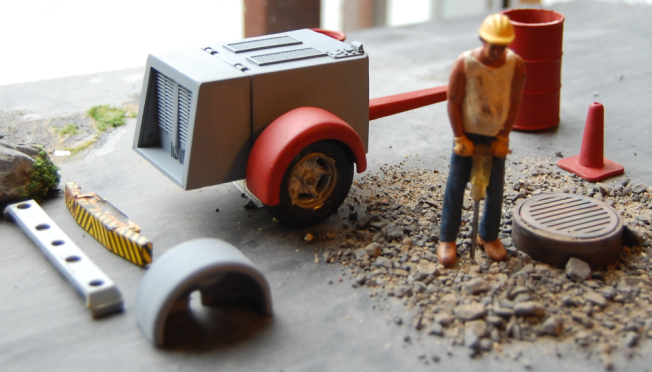 *
This is a 1/25 scale instant-made diorama. I mean the ground, rocks and stones were installed in a few minutes. The work on the rest is a very, very different story. This tow-behind compressor / generator was crafted from a piece of a toy, involving some scratchbuilding. The fender on it is my creation. I like vintage items and I wanted a fender (red-brown one) with round edges so here it is. I crafted only one and I will make a mold to copy it and install it on the other side. The gray fender is another model a bit different that I crafted also. Like all the fenders that I make, there is only one sample of it and I have to make a mold to duplicate it. I have done several models of fenders, but I have to find them in my boxes. I have done the pole and the heavy duty ring that connects behind a road maintenance service truck. I Think that I will install a bumper at the back of the tow-behind compressor. I have plenty of models.
The man hole and its protruding tube is my creation. I also crafted the road safety cone. I've done it like a real one. It is empty inside, the top is open and the edges are rounded evenly. I had to fabricate a special tool to make this round edge. I also made a program in my computer and made a 1/25 scale checquered flag that fits on top of the cone, right in the hole, if I want a safety cone for a race track. I made programs for several scales of chequered flags in my computer (1/25, 1/18, 1/16 and 1/12) It is easy enough to convert my program to other scales. The 2 barels were taken from 2 different toy sets, I just had to cut the tops to open them.
*
The figurine was already a road worker with a pneumatic drill but it was consistently modified and dirtied to make the guy more realistic. He was also added a little pot belley, just for fun and has a tatoo on one of its arms, this is adding a little "rough & tough" touch, but don't worry, he's a very nice and frendly guy and he likes joking with people. I still have to make the pneumatic hose from the trailer to the drill, installing an axle under the compressor / generator and some other little details. The heavy duty trailer wheel came from a box of used parts that I bought, but don't ask me from which kit they came from. I have another model of tow-behind compressor / generator in construction. This one all from scratch and a little bigger but for the same scale.
*
I forgot to include it in the pictures, but I also crafted a 1/25 scale fire hydrant. It is well detailed. You can find it in the column at the right under the titlle Borne-fontaine à l'échelle 1/25 – 1/25 Scale Fire Hydrant.
*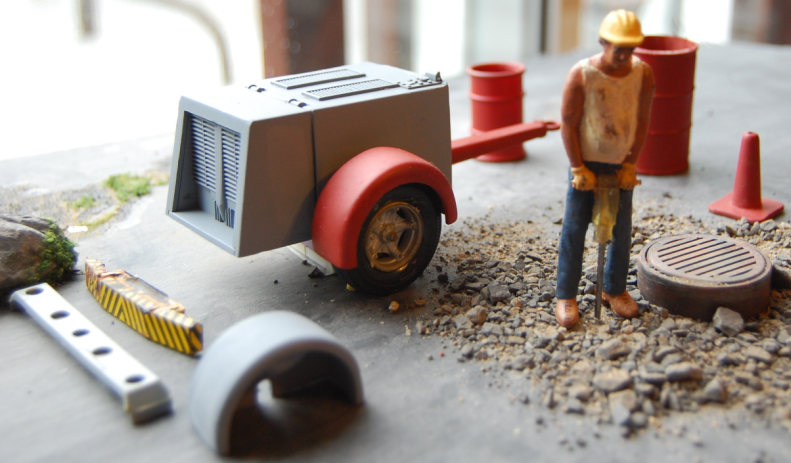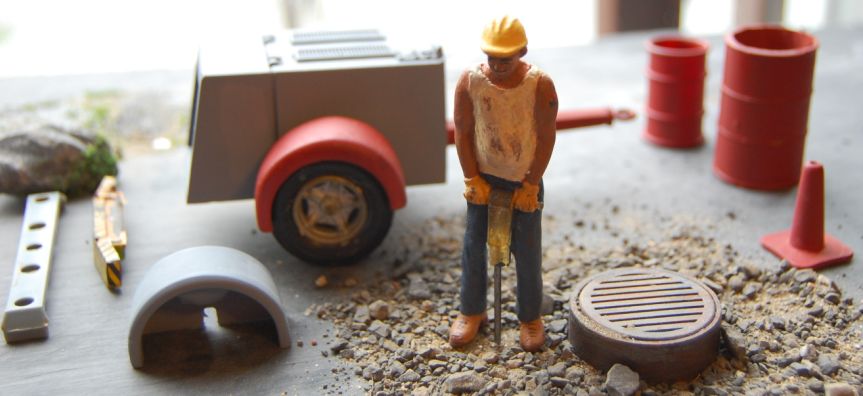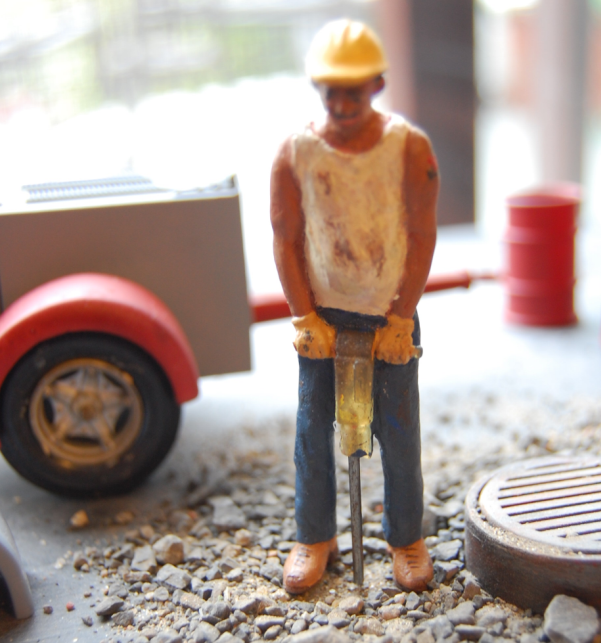 *
*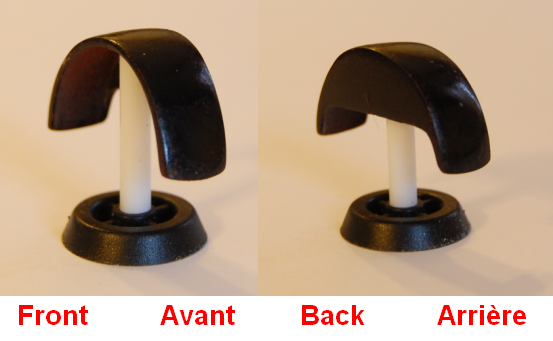 *
This is another model of 1/25 scale fender that I created years ago. I have to look to find the other ones that I made. The item did not want to stay up because it is round on both sides. So instead of sticking it on an ugly piece of doe, I decided to fabricate a base and a post to show the fender. Like you would find if it would be a real 1:1 fender in a store window or a showcase of a trailer shop.
*
*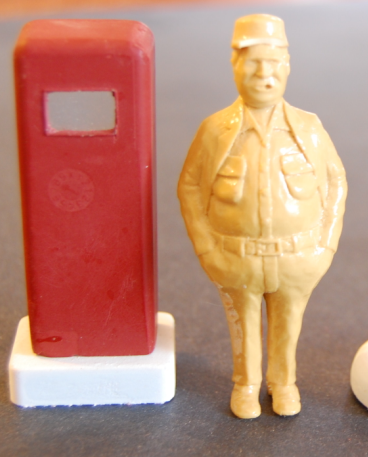 *
I needed a 1/25 scale guy to put next to my item and the other guy above is busy working on a pavement, so this one was passing by and I grabbed by and ear an dragged him next to my gas pump. He did not want to come but I told him that I am going to paint him with ugly colors, so he stays there but he's grumbling.
*
Years ago I happened to notice a vintage gas pump. This one was a low budget pump, no fancy shapes, detailed deco art style, no chrome, just a basic unit used generally by some moving companies, in their yards for filling up their trucks and lift trucks, or perhaps you could find some of them on some big farms or other places. I crafted one of these pumps. I installed a glass in the square hole and it is ready to receive a decal. I still have to build the nozzle and the hose. I also built a base to put under the pump (for a single pump), and another base if you want to install 2 pumps (regular gas and super).
*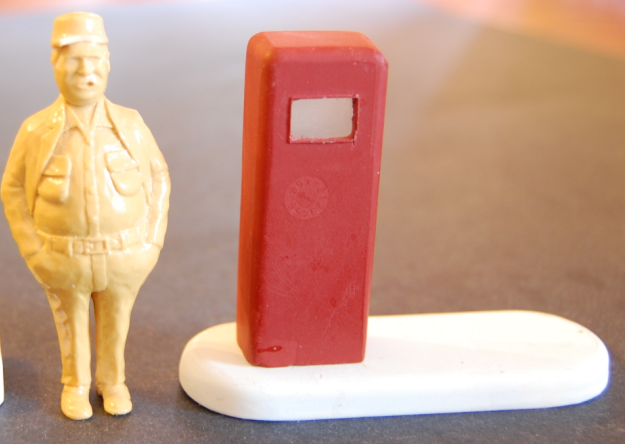 *
*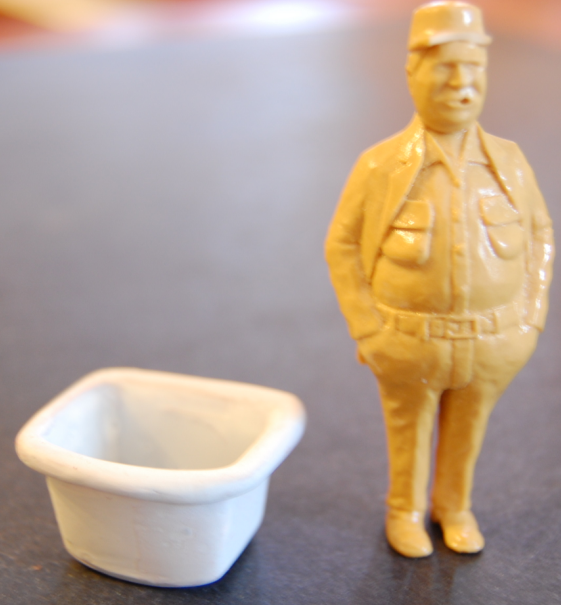 *
Here's the same unhappy guy next to my sink.
I like antiques so I wanted to craft a vintage cast iron sink, with these big round edges all around. It reminds me when I was a kid. I want to install it in a corner of an old garage and dirty it for good! Ha!, these mechanics!, they never clean the sink when they wash their dirty hands.
*
*

*
You know… I just got an extraordinary idea. This big fat guy is in a bad mood. He's not smiling at all and he has a bad attitude. I am going to make something good for him. He looks just great for the job! I am going to turn him into a clown. He won't look more ridiculous than he looks right now anyway… and perhaps he will become happy seeing that he makes people smile and laugh.
*
Ok, next to this ridiculous fellow (I'm just teasing him and he teases me also, we're good buddies and I like him to be honest), there are 2 anvils that I crafted. First I made the one on the left, but maybe…, for a 1/25 scale guy it was perhaps a bit big. I found it ok but a friend told me that it was too big for the scale. I don't know but I had done some searches on the net and I found at the time that they had made some anvils weighting up to 1000 pounds, so they could not be small compared to the size of a man, but I created another model for fun, a bit smaller and I started a third one even smaller but it's not finished, so these anvils will suit for different scales, from 1/25 to 1/12 but for 1/12 scale it will makes an anvil that we put on a bench, but I just recalled that I have another anvil that I forgot and It's even bigger and will make an anvil of a good size for the 1/12 scale, and would probably suit also for the huge 1/8 scale. I should take a picture of it soon.
*
*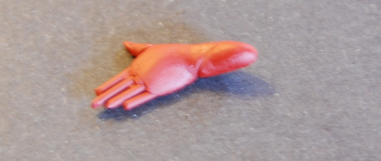 *
This is a hand that I crafted for a 1/12 scale figurine. I still have to work on it.
*
I have plenty of items like these ones, but I lack of time. Just preparing the pictures and write the texts is taking me hours. Creating an item can take several hours to a couple of days if we count the time needed for drying or hardening between the coats and the different steps of work.
*
Any question or info that you would like to share?
Contact me at:
florent.beauchemin@gmail.com
Enregistrer
Enregistrer