Borne-fontaine à l'échelle 1/25 – 1/25 Scale Fire Hydrant
*
*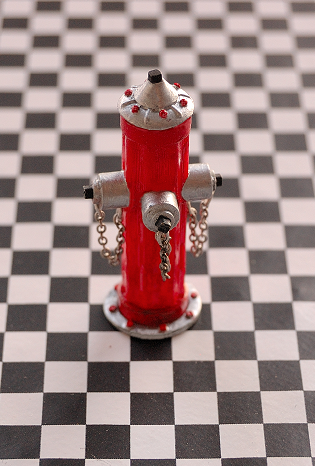 *
Il y a quelques années je cherchais sur le marché une borne-fontaine à l'échelle 1/25. La seule que j'ai trouvée à l'époque se vendait sur ebay. Elle était en résine et me semblait avoir été fabriquée avec un pion de jeux d'échec auquel on avait ajouté deux extensions cylindriques horizontales dans des directions opposées, pas tout à fait opposées je dirais, car elles étaient croches, mal alignées. Ces deux pièces étaient les sorties d'eau où normalement on connecte les boyaux d'arrosage. Cette borne-fontaine avait un look que je trouve britannique à cause surtout de son chapeau qui ressemblait beaucoup aux képis que portent les policiers de ce pays. Du moins ceux qu'on voit autour de la reine d'Angleterre. Je n'aimais pas cette borne-fontaine et encore moins ses deux sorties mal alignées. Je trouvais le diamètre de la base trop grand et elle n'avait pas un seul boulon pour la fixer sur l'adaptateur qui est situé sous la borne-fontaine, juste au niveau su sol. Franchement je n'aurais pas osé vendre quelque chose de si mal fait et je n'ai même pas voulu l'installer dans mon diorama (scène). Donc je me suis dit qu'un de ces jours je devrais en créer une de moi-même. Comme je n'avais pas un atelier d'usinage ça m'a pris quelques années avant de trouver les pièces que je trouvais acceptables pour construire ma borne-fontaine. La pièce la plus difficile à trouver était la pièce maîtresse, le corps de la borne-fontaine qui devait être un genre de poteau rond mais avec des lignes creusées verticalement tout le tour, espacées également. J'avais besoin d'une pièce qui soit en plus juste du bon diamètre et ça ne tombe pas du ciel tout d'un coup. Donc ça a pris quelques années avant qu'un jour je trouve cette pièce. Les pièces manquantes je les ai fabriquées moi-même. Les chaînettes proviennent de boucles d'oreilles. Les mailles miniatures sont identiques aux chaînes qu'on retrouve dans l' échelle 1:1 ( Pour le modéliste et le maquettiste, l'échelle 1:1 est l'échelle de notre réalité de tous les jours. Comique qu'un jour des maquettistes dans leur petit monde fantastique, aient eu l'idée de faire de notre réalité une échelle. En suivant leur raisonnement nous sommes des figurines vivantes à l'échelle 1:1, nous embarquons dans des automobiles 1:1 et certains d'entre nous montent dans des trains à l'échelle 1:1 pour aller travailler).
Un moment donné je vais faire un moule pour fabriquer cette borne-fontaine en série mais avant d'en vendre je dois entamer des démarches pour obtenir un "copyright".
Si vous avez des questions, des commentaires ou des corrections à suggérer, ne vous gênez surtout pas de m'écrire.
Florent
florent.beauchemin@gmail.com
*
*
Some 5 or 6 years ago, I was looking on the market for a 1/25 scale fire hydrant. I found only one model, a resin one that I bought at that time on ebay. It had a curious look, was made I believe, with a pawn of checkmate game, with the addition of 2 outlet caps on opposite directions, not perfectly opposite as in fact they were crooked, not perfectly aligned. This hydrant had a british look I would say. The top cap looked a bit like those britt policemen hats that we see on vintage british films. At least the ones surrounding the queen of their country. I didn't like this hydrant and it was worst with these 2 crooked horizontal water outlets.
I found the diameter of the base too big and there was not even one bolt on it to screw the thing on the adapter on the ground connecting to the pipe underground. It was the only 1/25 (or 1/24) scale fire hydrant that I found on the market at the time. As I couldn't find any nice one I told myself that one day I would have to build one from my own. As I didn't have a machine shop it took a few years before I could find the main piece suitable for this project and the other missing parts, I created them. The main piece of the hydrant is corrugated vertically all around, like many hydrants that we see on the streets, it was the most difficult part to find, for this project. Not only that this kind of round post had to be corrugated, with recessed vertical lines, but the diameter of the piece had to suit the scale 1/25, really not easy to find. The miniature chains come from a set of ear rings. The chain links are exactly the same shape as the ones that we see on a 1:1 scale chain (1:1 is the scale of our world, funny that some model makers one day, in their fantastic miniature world, had the idea to make a scale especially for the real world where we live. If I push the thinking further, we can see it funny to look at ourselves like some kind of living figurines in the scale 1:1, that we live in our 1:1 house and that some of us are taking a 1:1 train to go to work, and so on, lol).
Some day I plan to make a mold of this hydrant, cast the thing and start selling it, but the other question is to get a copyright to protect my creation. In the meantime it is sitting there with many other items that I created.
If you have any comment, questions or corrections that you would have to suggest please feel free to contact me.
My email address :
florent.beauchemin@gmail.com