1/6 scale Alysa and Jade heads customized with a raster graphics editor – Helen Design stunning classic outfit
*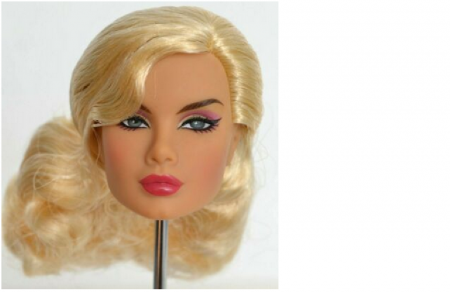 *
Please click on every picture to see them fullsize
*
The picture above is of an original head of Alysa from Fashion Royalty and this special release of her with this color of hair, hairstyle, color of eyes, makeup and skin tone is called "Color Clash".
*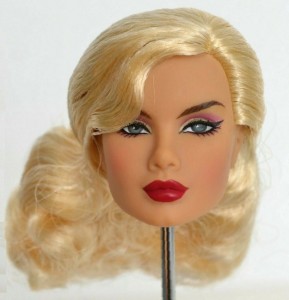 *
First step of customizing, the lips have been changed from pink to red.
*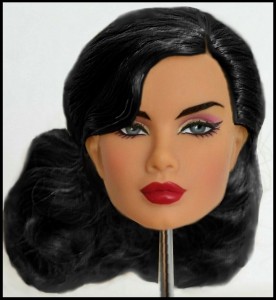 *
Don't you think that this one is beautiful also? For a special project, I wanted to see her with 2 changes : The hair in black and the lips red, but keeping the same makeup, color of eyes and hairstyle. I begged my so good friend Mimi to make the change in her computer and she did it for me. So here is the result. She deserves all the credit for the work done on the 2 pictures above.
*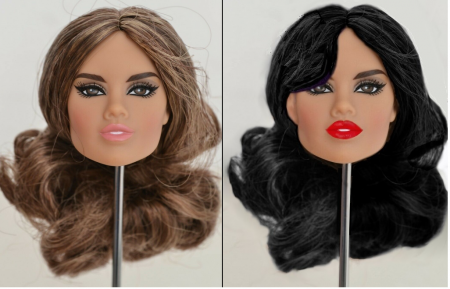 *
The name of this second beauty of a head, is Jade.  She is from the same line of production, Fashion Royalty. This particular release (picture on the left hand side) of her with this color of eyes, makeup, hair color, hair style, makeup and skin tone is called "Feelin' Extra".  I needed a couple of heads for the above special project that I wrote about.. I wanted a few of them black haired with red lips, so again, this very kind Mimi performed the taks using her FotoFiltre Studio X. Like for the Alysa head, further above, it is not that I don't like the original versions of these figurines.  On the opposite, I find them gorgeous, but I wanted somethins special.
*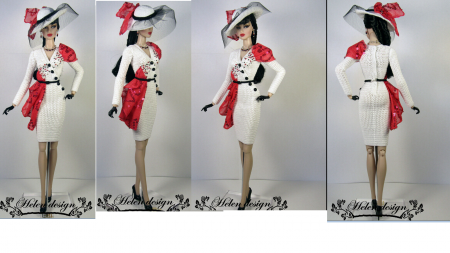 *
Please click on the image.
*
I had bought this more than splendid outfit from Helen Design, who lives in Ukraine and I wanted  heads with black hair and red lips to match some colors of this amazing creation. I Fabricated a quick install and remove system by modifying the necks of these dolls and adding a pin  going inside the neck and a part of it sticking out. The circular rod is just the perfect size for the round holes of any Fashion Royalty female head. They just fit tight enough but not too much on the rod.  It takes just a few seconds to remove a head and install another one on the same body.  As Integrity Toys is always making the necks of its figurines too long, I cut a slice on top of them, so it brigns them back to look a lot more realistic.
By the way, I knew that the beautiful figurine that Helen chose to advertise her magnificent dress and hat is a Veronique Perrin but I wasn't sure of the exact release of this Vero. She is simply stunning. I believe. The name of the release is "Night Warrior", a rare and expensive one that I would dream to own one day. She changed the hairstyle and it makes the figurine even more beautiful. Helen is a very talented designer. I love what she does.
*
Months ago, I have bought a Constance Madsen "Afternoon Intrigue" nude, always from the line Fashion Royalty. It was for this present project. She was already black haired and red lipsed, so nothing to customize on this one. I didn't cut her neck (yet). Mimi installed her the dress and hat, plus some black gloved hands and a red pair of shoes. She will need some jewelleries.
Here are a few pictures. They have been done a bit fast. She took a first set of better ones weeks ago… but she doesn't find them… hopefully later on. In the meantime I will use these 4 ones.
*

*
*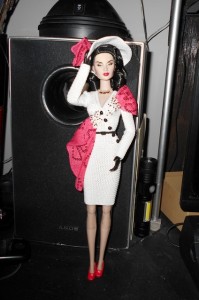 *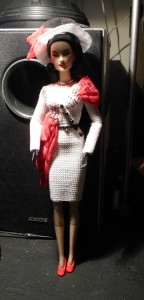 *
Mimi lives at an hour drive from where I live. She has most of my figurines and figurine heads into her armoire of doll projects. She is very busy by this time and me too because I have to fix my vehicle. So we can not get together and work on projccts like this one… and others. Later on we will work on this one again.
*
To be continued
*
Any question or comment?
Please contact me at:
florent.beauchemin@gmail.com
or
florentbeauchemin@gmx.fr