1/6 scale new head sculpt on a new sculpt body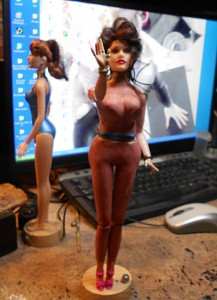 Please click on the images to see them fullsize.
*
This is the new head sculpt crafted by Mimi. She didn't put a name on her beauty yet. It is a georgous piece. She is unique. Don't try to find another head sculpt like that one. There is no other one. If Mimi wants to sell it, I will be the buyer.
The body of the figurine is my work. It is one of my latest projects for a Vanessa Perrin with customized pink hair and new hairstyle that you can find in the column on the right side of this blog with more details about the hands that I installed on the arms. I still have to rework some areas on the torso and the neck. I have to install the clavicules, rework the bum, the waist, pulvis area and also to put more coats of glazing on it, followed by sandings. When you build things like that, by moments it seems that there are always things to improve, and you are under the impression that it will never be finished.
*
I crafted the jewelleries for the wrists and the hands. Mimi has fabricated the ones on her head, i.e. many rings on each ear as her creation is inspired by punker girls and some other styles mixed together. Since this head does not have a body yet, I took the one I am working on and installed her head on it for some picture shootings.  The other figurine on the left side in the background is a Constance Maddsen from Fashion Royalty on a Barbie-ish body awaiting to be reworked.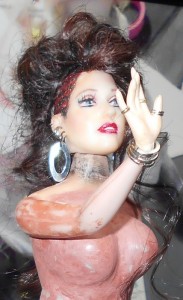 *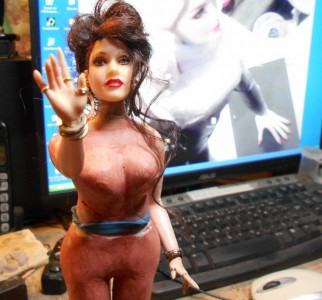 *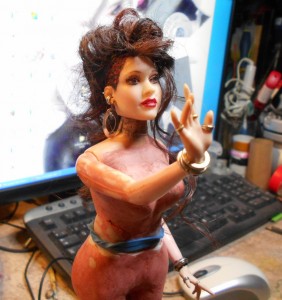 *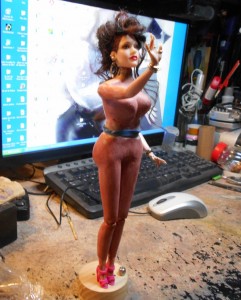 *
Any comment or question? Please contact me.
florent.beauchemin@gmail.com
*
To be continued.
*
Enregistrer
Enregistrer
Enregistrer
Enregistrer
Enregistrer
Enregistrer
Enregistrer
Enregistrer
Enregistrer
Enregistrer