Figurines 1/25
*
*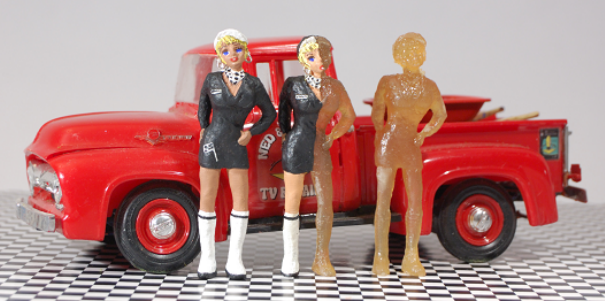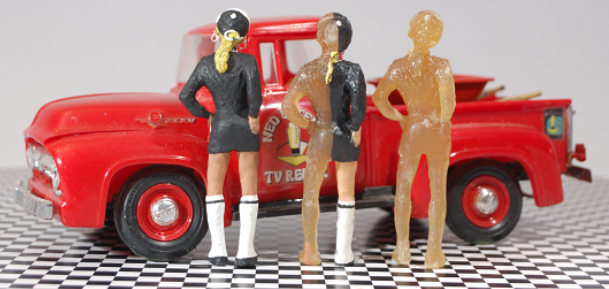 *
Nota : For optimal  results of these pictures, set the resolution of your computer to 800 x 600 pixels. Read the AAA note on the right column to learn how to do it.
*
Note : Pour des résultats optimums, au sujet des photos de ce site, configurez votre ordinateur à une résolution de 800 x 600 pixels.
Lisez les instructions dans dans la colonne de droite AAA  pour y parvenir.
*
All the pictures on this page were taken by Georges Pilon except when mentioned otterly.
*
Toutes les photos apparaissant sur cette page ont été prises par Georges Pilon excepté lorsque mentionné autrement.
*
Here is Liliane,
Created by us as one of several Stock Car race track girls, she's from a serie of beautiful girls that we call Miss Speedway. She's our first release and the first one that went trough the mold processing. She's pictured besides a 1/25 scale 1956 Ford pickup truck, a scale model kit that has to be assembled with styrene glue. This scale model truck  is produced by Revell and is 7 and 3/4 inch long or a tiny bit less than 20 centimeter  long on the metric system, for those who wouldn't know what 1/25 scale means as a dimension. The vehicule  is on the picture as a witness that the figure suites well into the 1/25 scale line for plastic scale model kits or diecasts (cast metal vehicules).  Needless to mention that she fits also well into the 1/24 scale line. Notice that she even has ear rings. The unpainted figurine perhaps doesn't tell much, this is why we had the idea to make a figure just half painted on the front and on the rear, sort of transition between the unpainted and the painted one. It gives  a better idea of what the figure becomes in the process of painting.
*
Voici Liliane,
Créé par nous parmi plusieurs autres belles demoiselles miniatures, elle fait partie d'une ligne de figurines féminines que nous avons appelé Les Miss Speedway.  C'est la première que nous projetons de mettre sur le marché et la première a avoir passé au travers du procédé de moulage pour en faire des copies. On la voit photographiée devant un modèle à coller à l'échelle 1/25 d'une camionnette Ford 1956 produite par la compagnie Revell. Ces modèles doivent être assemblés avec de la colle à styrène pour modèles réduits. Le véhicule mesure 7 pouces et 3/4 de long ou un peu moins de 20 centimètres sur le système métrique, pour ceux qui ne sauraient pas ce que représente en dimension l'échelle 1/25.
Cette camionnette apparaît sur la photo comme référence pour attester que la figurine rencontre les dimensions  pour bien cadrer dans cette échelle qui est la plus populaire sur le marché du modèle réduit (du moins en Amérique) à coller et qui compte aussi quelques modèles réduits coulés en métal. Il ne serait pas vraiment nécessaire d'ajouter que la figurine cadre aussi bien avec les véhicules de l'échelle 1/24 qui n'ont qu'une infime différence en proportions avec ceux de l'échelle 1/25. La figurine viendra avec un ensemble de bouches d'oreilles en anneaux. La figurine non peinte ne dit vraiment pas grand chose quand on la regarde du premier coup d'oeil. Nous avons eu l'idée d'inclure une figurine juste peinte à moitié, sur le devant comme sur l'arrière.  Cela donne une bonne idée de ce que devient graduellement la figurine dans son processus de finition au fur et à mesure qu'on la peint.
*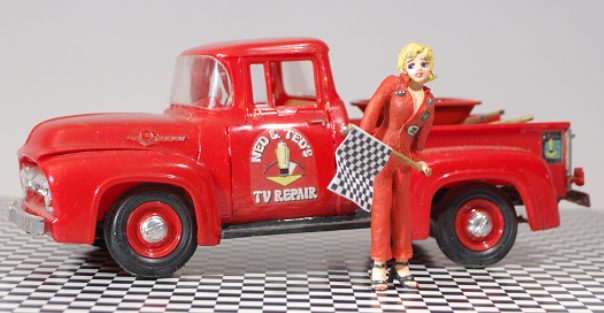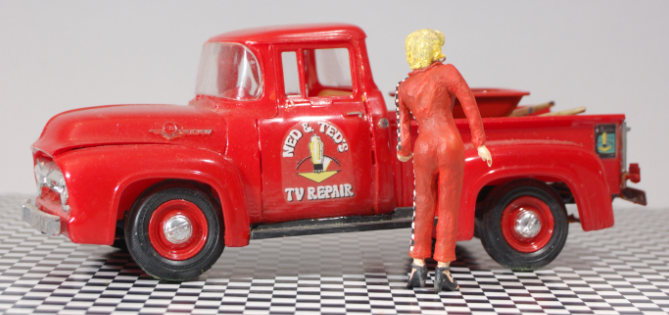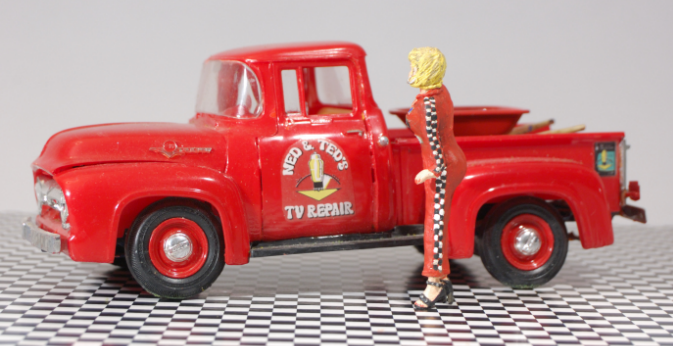 Now, here is an adoring girl that we named Jessica, a candid and shy beauty. She wears high heels and a race pilot style suit. She's a very well proportioned sexy girl.
She didn't go trough the mold processing yet, but it is soon to come. We also created the 1/25 scale chequered flag and we have a bunch of these items ready to go.
*
Maintenant, voici une adorable fille que nous avons appelé Jessica, une candide et timide beauté. Elle porte des souliers à talons hauts, et un ensemble genre habit de pilote. Elle est très bien proportionnée avec  de belles petites fesses rondes.
Nous ne lui avons pas encore fabriqué de moule mais c'est à venir. Nous avons aussi créé le drapeau à damier à l'échelle 1/25.
*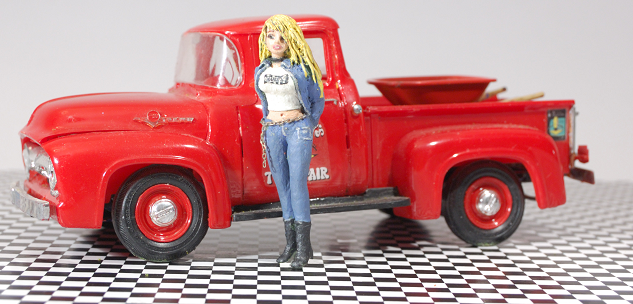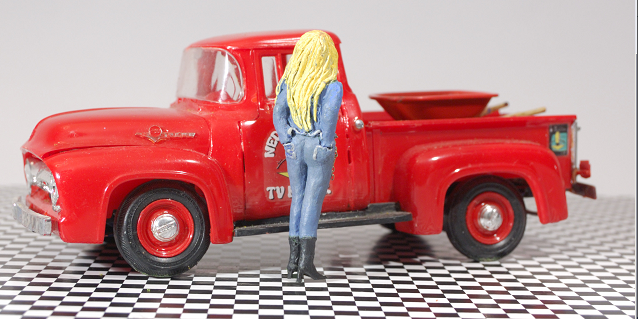 Here is another of our beloved daughter we're proud of.
You'd better be a very good boy if you want to marry her.
She wears sexy high heel boots, jeans and a short teeshirt showing her nice nombril. Her belt is a chain. Her 2 hands are stored in her back pockets. All the boys around are in love with her. Her name is Renée.
*
Voici une de nos belles enfants, une de nos filles bien-aimées dont nous sommes fiers. Si vous voulez la marier vous devez être un très très bon garçon.
Elle porte des bottes à talons hauts, des vêtements en dennin, un teeshirt très court et on aperçoit son beau petit nombril. Elle a une chaîne pour ceinture, a les deux mains logées dans ses poches arrières. Tous les garçons du voisinage sont amoureux d'elle. Son nom est Renée.
*
*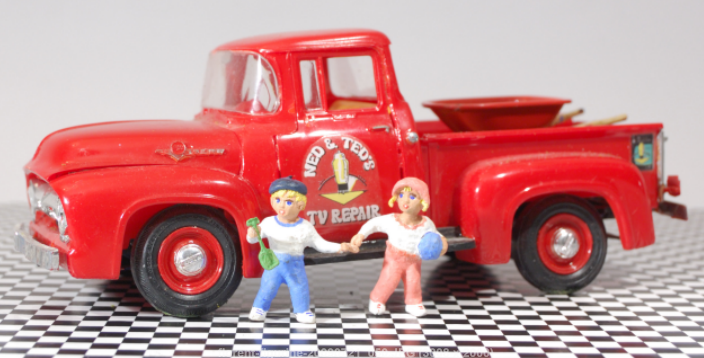 We introduce you our 2 little lovely twins. They like to play in the sand, even in the mud and get dirty. They are a terrible little dynamic duo running all over the place and to touch everything that they see.
*
Nous aimerions vous présenter nos charmants petits jumeaux. Ils aiment jouer dans le sable, même dans la boue et tout se salir. C'est un terrible petit duo dynamique qui aime courir partout et toucher à tout.
*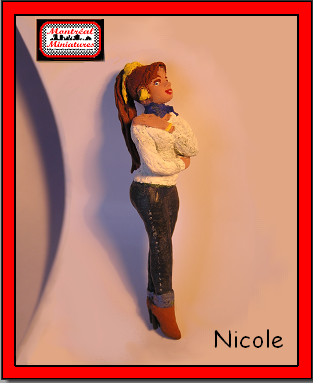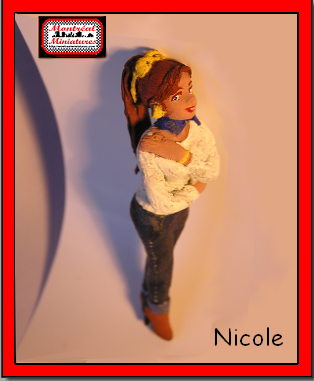 Here is our lovely Nicole, a pony tail beauty. She wears a wool sweather, scarf, tight jeans with turn ups and sexy high heel suede boots. She has a little charming smile.
These 2 photos taken by Jocelyn Robichaud
*
Voici l'appétissante Nicole, une beauté à queue de cheval. Elle porte un chandail en laine, un foulard, des jeans serrés avec turn-ups et des bottillons à talons hauts en suède. Elle a un petit sourire charmeur.
Ces 5 dernières photos par Jocelyn Robichaud
*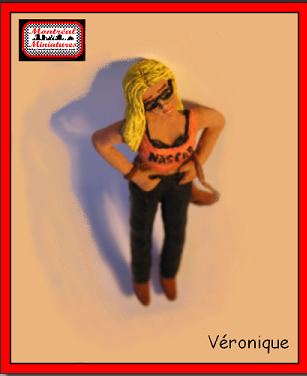 *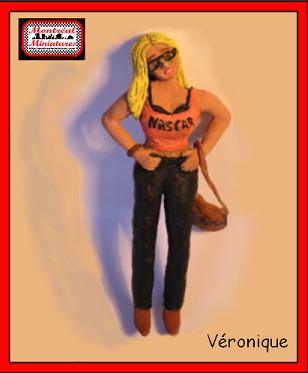 *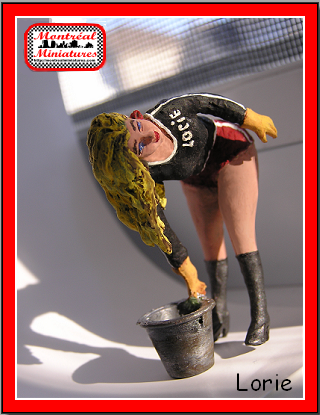 *
We have several other beauties like these ones to put on the website when we'll have the time. Also guys, Racing drivers, Mechanics, teenagers and young kids… Some more figurines will appear on this page!
*
Nous avons plusieurs autres beautés à placer sur ce site lorsque nous aurons du temps.  Aussi des gars, des pilotes, mécaniciens,  des adolescents et  jeunes enfants … D'autres figurines vont apparaître sur cette page!
*
My email address :
Mon adresse électronique:
florent.beauchemin@gmail.com