Comment j'en suis venue à créer des figurines – Par Mimi – How I happened to start creating figurines – By Mimi
*
*
Prior starting this page, please note : Many persons are asking me questions and they think that I can answer them when they use the COMMENTS option to ask their questions on this website. For some reason their email address is hidden by an automated system even if they clearly write it in the proper space and I can't give them a reply so if you have a comment there is no problem to leave it on the website but if you expect a reply from my part please go to the section CONTACT US and copy and paste my GMAIL.COM address. Then send it from your own mailbox software. If you don't do that. I won't be able to give you a reply. I tried many times and it just doesn't work. I am sorry for this unconvenient but this is the best that I can do for now as I can't find where the problem is. Please remember this if you want to contact me.
*
*
Avant de débuter cette page svp prendre note : Plusieurs personnes me posent des questions dans la sections COMMENTS (commentaires). Même si vous laissez clairement votre adresse courriel dans la case appropriée un système automatisé le cache et je ne peux répondre à vos questions. Si vous désirez me poser des questions, svp allez dans la section CONTACT US et copiez mon adresse GMAIL.COM puis transférez-la dans votre propre système de messagerie, puis envoyez-moi le message. J'ai essayé plusieurs fois de répondre à des questions mais ce système ne me le permet pas. Si vous oubliez de procéder ainsi je ne pourrai pas répondre à vos questions.
*
*
Note : Toutes les figurines qui apparaissent sur les photos ci bas sont compatibles à l'échelle 1/25
*
Nota : All the figurines appearing on these pictures are compatible to the scale 1/25

*
*
Avant de créer des figurines de toutes pièces j'ai commencé à apprendre, en premier lieu, la modification de figurines déjà faites. En y pensant bien, c'était probablement la meilleure façon de commencer et lentement de prendre de l'assurance. Cela fait plus de 3 ans maintenant.  C'était  pour accompagner et encourager Florent dans sa passion, le modélisme. Il m'a appris les techniques de base, m'a prêté quelques articles sur la création de ces petits êtres et j'ai lu sur certaines techniques de peinture sur les figurines, puis j'ai démarré doucement dans ce beau passe-temps.
Je ne pensais pas du tout à ce moment-là que la passion de Florent deviendrait aussi la mienne.  J'ai commencé avec des figurines  que je modifiais pour leur donner un aspect différent et mes premières réalisations, bien que de passables à très passables, n'étaient pas éclatantes. C'était disons des exercices et ces figurines je ne les vendrais pas, (je les ai toujours d'ailleurs) quoi qu'elles soient pas si mal. Elles ne me plaisaient pas suffisamment. Elles avaient quand même un petit quelque chose d'original. Elles étaient uniques mais pas assez originales et belles à mon goût. Au début, je ne me risquais pas à modifier un visage, j'ajoutais des items que je fabriquais avec de la pâte, des chapeaux, des bijoux, des fleur, de nouveaux vêtements etc.
*
*
Prior creating figurines completely from scratch I started first to learn how to modify some figurines already made. Thinking about it, it was a very good idea. Starting to create a figure from scratch only with some plastic paste would have been too difficult the first time. This is more than 3 years ago now. It was to accompaing and encourage Florent in his passion, scale modeling. He teached me the basic techniques, lent me some articles about creation of figurines, some painting techniques and I started slowly in this nice hobby.
At the time I didn't know that it would become a passion for me as well as it is for him. So I started with figurines that I modified to give them another look and my first ones even if they were acceptable or good enough, were nothing extraordinary. They were, lets say, exercises and these ones, I wouldn't sell them, even if they are not so bad. They didn't please me that much even if they had a little something original. They were unique but not beautiful enough for my taste. At first, I didn't dare to modify their faces. I added items that I created with a special plastic paste, like hats, jewelry, flowers, new clothes and so on. I could change their hairstyle and some other details but it was about that, nevertheless it wasn't bad for a beginner.
*


*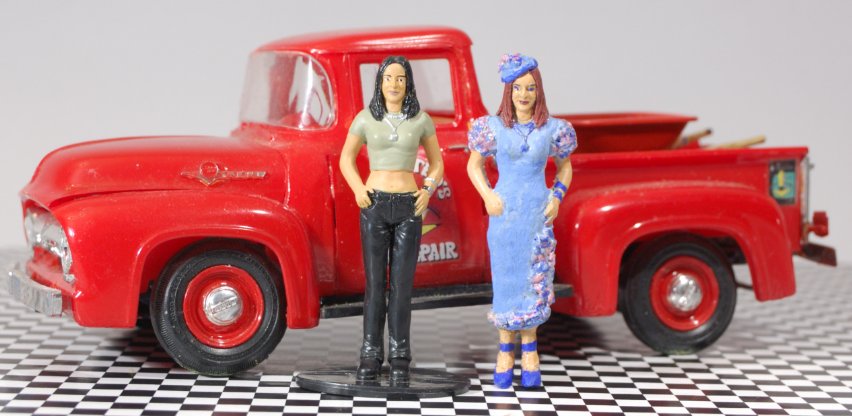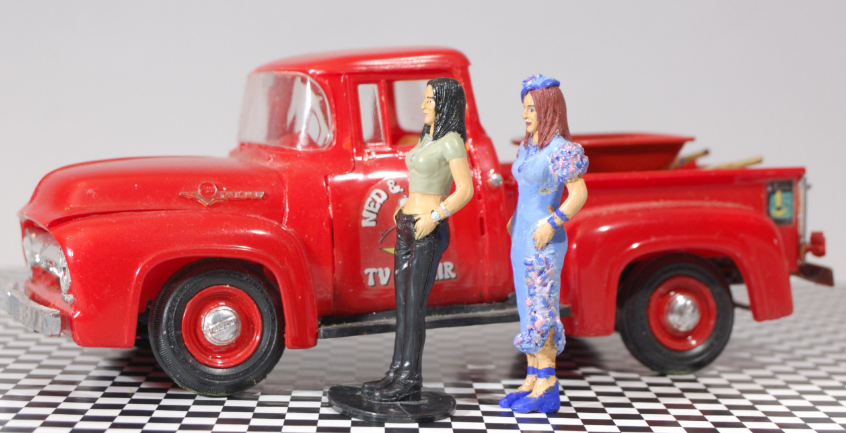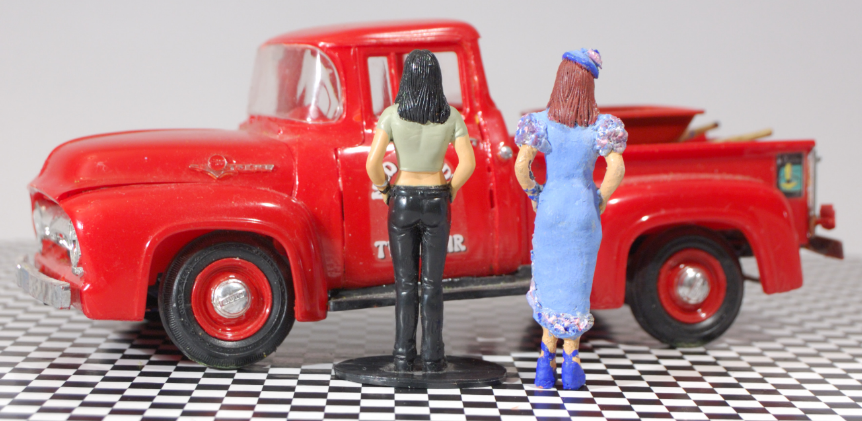 À mes débuts, une de mes premières figurines que j'ai modifiée
*
One of the first figures that I modified
*
Ces 2 figurines étaient au départ 2 copies identiques représentant une jeune femme dans le film Fast & Furious. En suivant mon inspiration j'en avais transformé une en tenue de soirée avec des bordures de petites fleurs miniatures et je lui avait aussi fabriqué un chapeau à fleurs assorti à la robe. La figurine n'avait pas un beau visage et je n'ai pas osé essayer de le modifier car j'avais peur de la rendre encore plus laide qu'elle ne l'était déjà. Je compte prendre de nouvelles photos bien meilleures sous peu. C'était encore un autre de mes exercices du début de mon apprentissage de figuriniste. Les fleurs miniatures sont en relief et sont bien réussies.
*
*
These 2 figures were at first identical. They were copies of a girl playing in the film Fast & furious. Following my inspiration, I had transformed one of them into a woman wearing an evening dress with flowers all along the edgings and a matching hat with the same flowers. The figurine didn't have a nice face and I didn't dare trying to modify it cause I was affraid to turn it uglier than what it was. I plan to take better pictures soon because these ones were not terrible. This was another exercise that I have done in my biginning as a figurine crafter. The flowers that I created with the plastic paste turned out very nice though.
*
*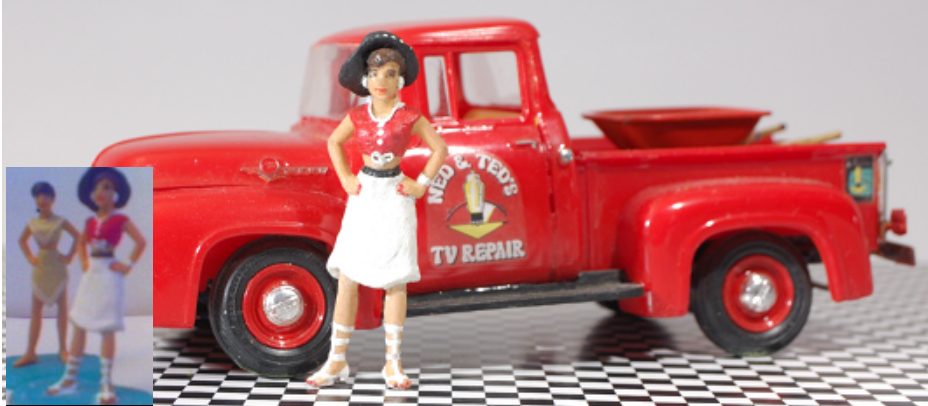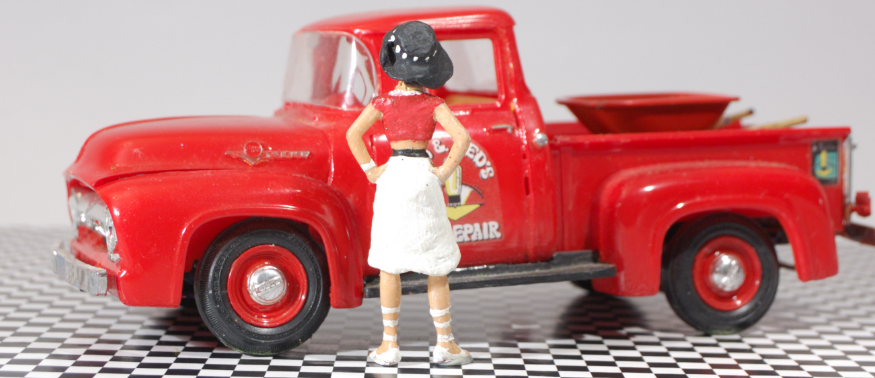 À gauche, on distingue une figurine en vinyle de l'indienne Pocahonta et juste à côté une deuxième copie identique que j'ai modifiée, transformée en une autre femme mais la pause de la figurine est restée inchangée.
Photo de figurine et camion Par Georges Pilon
*
*
Picture of the figurine and truck by Georges Pilon
*
On this pic we see a figurine of the indian girl Pocahonta and right nex to it, the other one was at first identical. I transformed the second copy into some kind of a fashion woman, but I didn't change anything else. The arms, the legs and the whole body remained in the same place.
*
*
Comme tout apprentissage, c'est un processus et il se développe peu à peu, au fil des jours. On découvre un truc, puis un autre … J'ai ensuite essayé des morceaux de différentes figurines que je modifiais et adaptais de l'une à l'autre et tranquillement je fabriquais ce qui manquait avec de la pâte plastique.
*
*
As everything that we learn, this is a process and the skills are developping more or less slowly, day after day. We descover a trick, then another one … I tried then some pieces of different figurines that I modified and adapted together and slowly, I was building the missing parts with the plastic paste.
*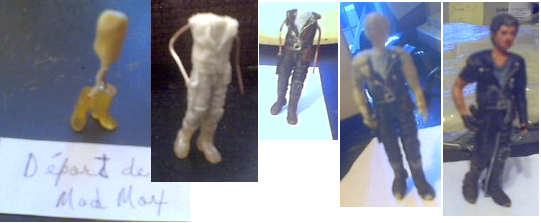 Voici la création d'une figurine du second épisode du film  Mad Max. C'est une commande d'un ami modéliste. Seuls les bottes et la tête ont été moulées en résine par Florent, mais ont été modifiées. Tout le reste a été sculpté et lissé avec de la pâte plastique sur un squelette de broches de cuivre.
*
*
This is a figurine of the second episode of the film Mad Max. This is a request of a friend in a scale model club. Only the boots and the head were molded and all the rest was crafted with plastic paste on a copper wire squeletton. Then the head and the boots were modified to look like the pictures of Mad Max. My skills had picked up steam.
*
*
Peu à peu, sans s'en rendre compte, en observant des modèles d'inspiration et en sculptant on apprend l'anatomie humaine. j'en suis venue à tout fabriquer et avec de la broches au départ comme squelette fabriquer tout le reste avec la pâte plastique. On a soudain besoin d'une main qui a une forme et une position particulière et on n'en trouve pas dans notre stock. Il ne reste qu'une solution : en fabriquer une de soi-même, travailler dessus, des heures s'il le faut, la recommencer car on n'obtient pas si souvent les résultants escomptés du premier coup, surtout pas les premières fois qu'on essaye quelque chose. Parfois c'est frustrant et parfois c'est encourageant.
Nous avons essayé la pâte Milliput, la Greenstuff et une autre sans nom que nous avons adoptée car elle est excellente et pas mal moins chère pour une grosse quantité.
Dans la création de figurines j'ai utilisé mes techniques de mélange de couleurs, de dessins, de textures et reliefs et de faux-finis que j'utilisais déjà depuis longtemps. Pour la confection des vêtements sur les figurines, je choisis le style et des couleurs qui, je pense, les avantagent et je fabrique des vêtements que j'aimerais porter moi-même.
Je fais de superbes coiffures (qui a été mon métier dans la vie pendant des années. j'étais coiffeuse) qui évidemment leur vont à ravir (rires). J'aime beaucoup leur créer des accessoires et des bijoux et j'adore leur fabriquer de superbes talons hauts avec de belles ganses, des décorations, de petites perles de souliers hauts de gamme.
J'aime fabriquer mes figurines sexy, avec de belles formes.
*
*
A bit at the time, whitout noticing it, you develop some knowledge, observing some inspiring models and sculpting the plastic paste we learn the human anatomy. Whit the time I came to create everything from scratch, using a steel or copper wire as an armature or a kind of squeletton and installing the paste around these tiny rods. It happens that suddenly you need a type of hand, of a certain size and in a certain position and you don't find anything in your stuff that suits what you would like. Then you try to build one from your own and you make many trials, during hours if needed and try different tools. This is a process, sometimes frustrating and sometimes fun. We certainly don't succeed all the time the first time. Maybe that it would turn out dull after all if it would be the case that you succeed all the time at the first trial. It is fun to make discoveries.
We tried a couple of different brands of plastic pastes : Miliput, Greenstuff and another one, some kind of no name paste which turned out to be the best one by far and we got a huge lot for a very reasonnable price considering that this type of paste is usually very expensive for a small quantity.
On the figurines I used my techniques of mixing colors when I paint them. I used also my techniques of drawings, of textures, of reliefs and of faux-fini. I already used these techniques since a long time. When I create clothes on the figures I choose the styles and colors that, I think, are the best for each of them. Clothes that I would like to wear myself.
I create my figures with beautiful hair styles. (I worked as a hair stylist during a couple of years) and these hair styles make of them amazing figurines (lol). I love to craft nice accessories like purses, belts, scarfs, ear rings, pearls and jewels on them and I adore making superb high heel boots or shoes on my girls
I like to craft sexy figurines with nice curves.
*
*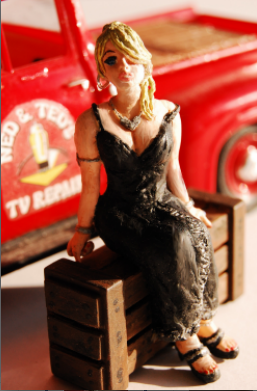 Voici l'une de mes dernières créations. Elle s'appelle Belle.
*
Here is one of my last creations. Her name is Belle
*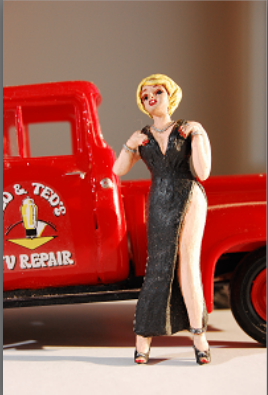 Et voici Marie-Lyne.
*
And here is Marie-Lyne
*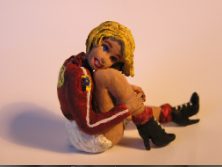 Celle-ci s'appelle Carole
*
This one is named Carole
*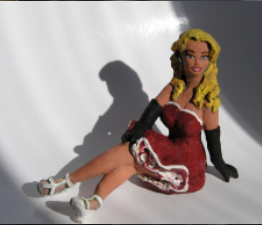 Et Isabelle.
*
And Isabelle
*
J'ai  au moins une vingtaine de ces beautés de créés à date.
*
*
I created at least 20 of these beauties up to date
*
MES ANTÉCÉDENTS
*
MY ACCOMPLISHMENTS
*
*
Vers l'âge de 14 ans je dessinais mes vêtements et je les faisais faire par ma tante Rose et c'était le style de vêtements que portaient les vedettes québécoises de la chanson. Les gens des alentours voulaient tous ce genre de vêtement en me voyant les porter.
À l'âge de 15 ans j'ai commencé des cours de couture pendant 1 ans à l'École Normale du Dégelis au Québec en bordure du Nouveau-Brunswick et une autre année à Rimouski en couture également.
Au fil des années, je me suis créé bon nombre de vêtements, ainsi qu'à mes deux fils, à ma soeur et à quelques autres personnes.
*
*
When I was a teenage, around age 14, I was drawing my own dresses and women's wear and I had them made by my aunt Rose. It was the style of clothes that the singing stars of the province were wearing in these days. People around wanted all to have this kind of clothes when they saw me dressed that way (lol) .
At 15 years old I started sewing courses during one year at a school named École Normale du Dégelis in Québec, near the border of New-Brunswick and a second year in Rimouski, also in a course of sewing.
After several years, I had created a big bunch of clothes for myself and for my 2 sons, also for my sister and for some other persons.
*
*
En 1972 j'ai pris un cours de coiffure à l'Ècole de Coiffure Darcy à Montréal et j'ai travaillé un équivalent de 4 ans en coiffure pour quelques salons à Montréal mais réparties sur diverses périodes et vers 1985 j'ai pris un cours de pose d'ongles à St-Jean-Sur-Richelieu.
*
*
In 1972 I took a hair stylist course at the École de Coiffure Darcy in Montreal and I worked the equivalent of 4 years for a couple of salons in this city but on different periods of time and by 1985 I took a course of nail technician in St-Jean-sur-Richelieu.
*
*
Étant fibromyalgique de naissance j'ai toujours fonctionné certains jours et d'autres pas à cause de cette maladie. Je n'ai jamais pu travailler très longtemps et souvent dans les phases difficiles, travailler sur une cédule régulière vu mes troubles cognitifs était trop exigeant pour ma condition physique.
*
*
Suffering of fibromyalgy since I was born, I always been functionning on and off depending on the crisis. I have never been able to work on a steady basis because of this sickness; I was not able to work for a long time because of the cognitive troubles that I had. It was too tough for my physical condition.
*
*
Depuis le premier appartement que j'ai loué étant jeune adulte je me suis mise à faire des dessins sur les murs. Mon premier dessin, je l'ai fait en 1970 sur un mur de mon salon. J'avais dessiné des vedettes de la chanson québécoise de l'époque.
*
*
Since the first appartment that I rented being a young adult I have been making drawings on the walls. My first drawing, I've done it in 1970 on a wall of my living room. I had drawn the stars of the chanson québécoise (Québec's french-canadian singers of of this period of time).
*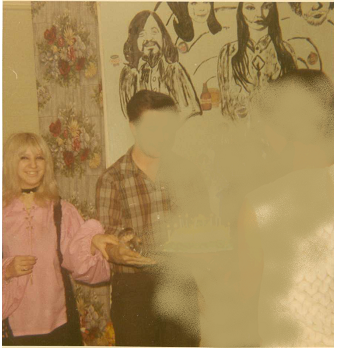 *
C'était cocasse parce que mon oncle George qui était mon propriétaire m'avait grondé pour avoir "barbouillé" son mur avec de la peinture noire. Nous en rions encore aujourd'hui, mais je dessine toujours sur les murs, mais avec beaucoup plus de couleurs et j'ai de beaucoup amélioré ma technique (rires).
*
*
My uncle George was the owner of the building where I lived and he rented me the appartment. When he saw the drawings done with black paint on his wall he was not happy and he said that I had "daubed" his wall. Now we laugh at it, him and me and I still make drawings on walls but with a lot more colors and my skills developped quite a lot since that time (lol).
*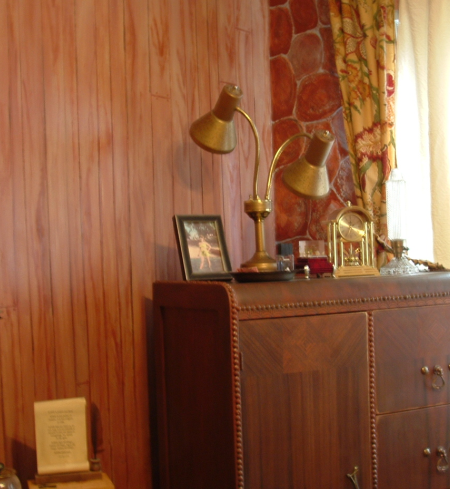 *
Dessins de planches et dessins de pierres sur les murs de ma chambre
*
Faux-fini of wood planks and stones that I have done on the walls of my bedroom
*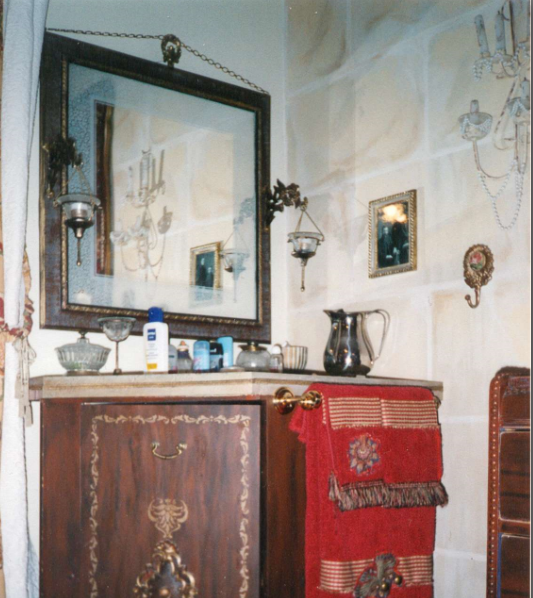 *
Des pierres de couleur pastels sur les murs d'une de mes chambres, un meuble que j'ai refait avec un faux-fini de bois (technique de peintures) et décorations que j'y ai ajoutées.
*
*
Stones of pastel colors on the walls of one of my rooms, a furniture that I have redone with a faux-fini of wood (painting technique) and decorations that I added.
*
*
Au fil des années j'ai aussi développé une passion pour la réfection et la transformation  de meubles antiques en des choses artisanales, et j'utilise aussi la décoration.  J'ai souvent pris des pièces d'anciens meubles brisés pour les installer sur d'autres et je me suis acheté un jour un banc de scie pour couper des pièces de bois et faire des pièces de  meubles.
*
*
Years ago, I started to develop a passion for antique furnitures and artisanal material. I would many times mix the 2 things together and renew these antique furnitures my own way and adding my own style.
*
*
J'utilise beaucoup de moulures anciennes et des pièces qui ont de l'âge,  comme des poignées antiques, fixtures de cuivre ou laiton, angles décoratifs et ainsi de suite.  Sur ces meubles anciens que je récupérais je faisais du faux-fini. Je m'étais acheté des livres extraordinaires sur les différentes techniques de faux-fini et je les étudiais tout en travaillant à temps perdu sur mes projets. Pour les gens intéressés à ce genre de techniques, j'ai deux livres formidables à leur suggérer :
Pour les meubles anciens : LES ARTS DÉCORATIFS DE 1790 ÀA 1850 par Léon de Groer, Office du Livre.
Pour le faux-fini : decorative Style (en anglais) by Kevin McCloud – Simon & Schuster
*
*
I use a lot of antique mouldings or old items like vintage door knobs or antique fixtures made of copper or brass, decorative angles and so on. On these old furnitures that I found I was making faux-fini. I had bought some extraordinary books teaching different techniques of faux and I was studying them while I was renewing a furniture. For the ones who would be interested in these techniques I have 2 amazing books to suggest them :
For the antique furnitures : a french book : LES ARTS DÉCORATIFS DE 1790 ÀA 1850 by Léon de Groer, edited by Office du Livre.
*
For the faux-fini : Decorative Style (in english) by Kevin McCloud – Simon & Schuster editor
*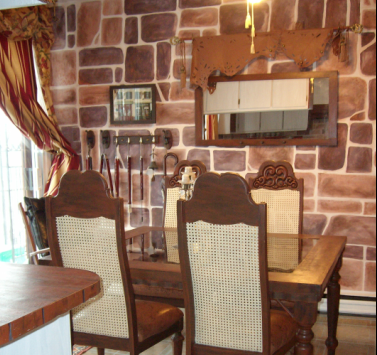 *
Au fond, un mur de pierre que j'ai dessiné dans ma cuisine. La table, je l'ai fabriquée avec un ancien cadre au rebords larges. J'y ai ajouté des renforts de bois  sous la vitre et des pattes de tables en bois tourné. Je les ai trouvées dans un comptoir familial. J'ai fabriqué des moulures pour le contour et fait un faux-fini sur le bois. Je travaille aussi le cuir et j'ai fait la décoration en cuir sur le mur de la cuisine. J'ai aussi refait le dessus du comptoir de cuisine avec un dessin de faux-fini de planches de bois, recouvert d'un vernis.
*
*
At the end, a stone wall that I painted in faux in my kitchen. The table, I made it with an ancient large frame surrounding a painting. I added some wood reinforcements under the glass and 4 wood legs for table.that I found in a store where they sell used material. I installed mouldings all around and I made a faux-fini of wood on it. I work also with leather and I made some leather decoration on the wall of my kitchen. Also, I have redone the finish on the top of the kitchen counter making faux of wood planks and I installed a sealer and varnish on top of it.
*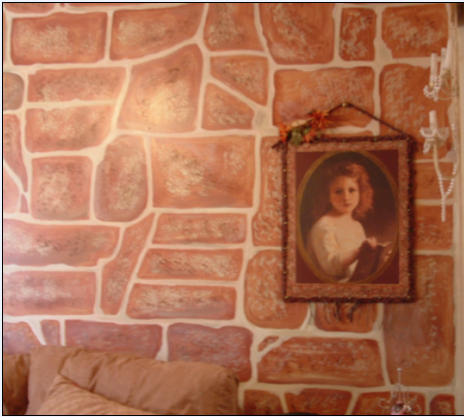 *
Un mur de ma chambre à coucher que j'ai fait en faux-fini de pierres.  Le faux-fini inclus aussi de faire du relief pour donner un effet plus réaliste aux dessins. Le cadre dont j'ai fabriqué la déco du contour en lanières tressées en cuir.
*
*
A wall of my bedroom that I made as a faux of stones. Including in the faux-fini is some relief to give a more realistic effect. Also, the frame and surrounding that I made of lattice-work leather
*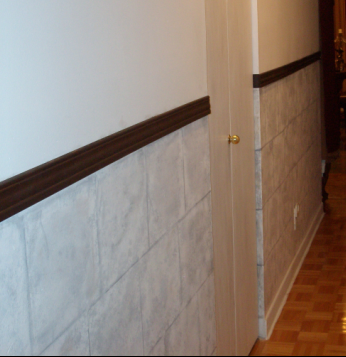 *
Les murs de mon corridor peints en blocs de ciment pastels.
*
The walls of my corridor that I painted into pastel cement blocks
*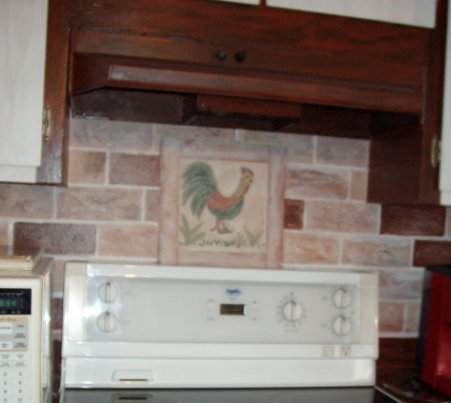 *
Des murs de briques que j'ai dessinés en faux-fini, la hotte de cuisinière qui était désuète, sur laquelle j'ai appliqué une peinture faux-fini de bois.
*
Walls of bricks that I made into faux, the stove fan was old and ugly. For fun I painted wood faux-fini on it.
*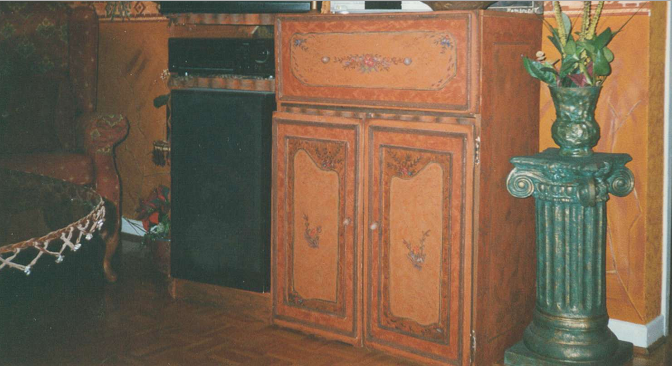 *
Un meuble de mon salon que j'ai fait à partir d'une étagère noire. J'ai fait les portes et fait les dessins. C'était pour mon système audio.
*
*
A furniture of my living room that I made with a black shelf. I made the doors, drawings and faux-fini. The furniture has been done for my stereo chain system
*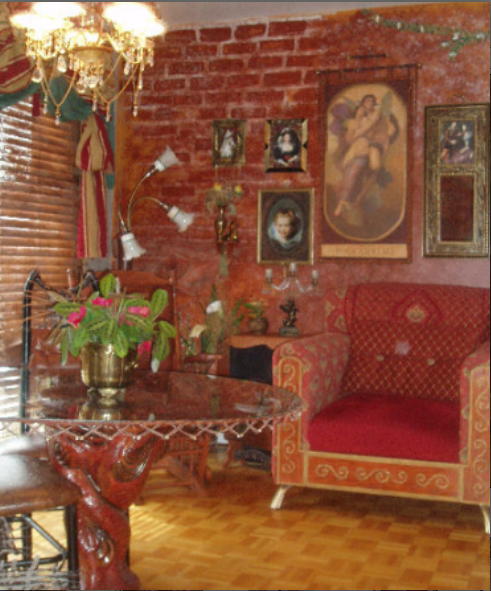 *
Murs de Briques en faux-fini que j'ai fait dans mon salon ainsi que la déco. J'ai conçu le fauteuil et le divan de toutes pièces avec mon fils qui travaillait dans la création d'ensembles de salon hauts de gamme, chez un fabricant italien.  Nous nous sommes inspirés d'un modèle des années 1800 pris dans le livre suggéré ci haut et je suis très fière de ces deux réalisations. L'un des deux meubles n'apparaît pas sur la photo.
*
*
Walls of stone in faux that I made in my living room, along with the deco. I made the plans of the reclining chair and the chesterfiedl, bought the material and my son and I we've built them from a to z. My son was working for a manufacturer . He was fabricating up market furnitures for living room.in their shop. Without him I wouldn't have been able to build them. The style of these furnitures is from the era 1800 and was taken in a book mentioned above. I am very proud of my reclining chair and my chesterfield. The chesterfield doesn't appear on the picture.
*
*
Je remercie mon frère pour m'avoir laissé pratiquer à peindre sur les murs de sa maison (rires).
*
*
I thank my brother for letting me practice my skills of making drawings on the walls of his house (lol).
*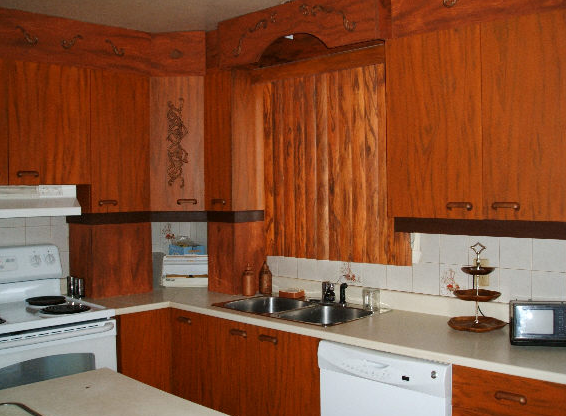 *
Sa cuisine qui était faite de mélamine beige et que j'ai transformée en faux-fini de bois, y ajoutant des pièces décoratives que nous avons moulées en fibre de verre (résine de polyester), puis peintes. Les stores verticaux sont également peints en faux-fini de bois et j'ai peint les bordures en brun foncé pour découper.
*
*
His kitchen was made of beige melamine that I transformed in faux-fini of wood, adding to it some decorative pieces that we have casted with polyester resin (fiberbglass), then painted. The vertical blinds are, as well, painted into faux of wood and I painted the edges in dark brown to add a little contrast to the lighter brown.
*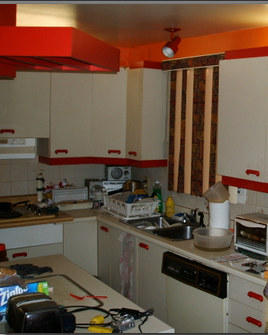 *
Sa cuisine avant d'être rénovée.
*
His kitchen before the renovations.
*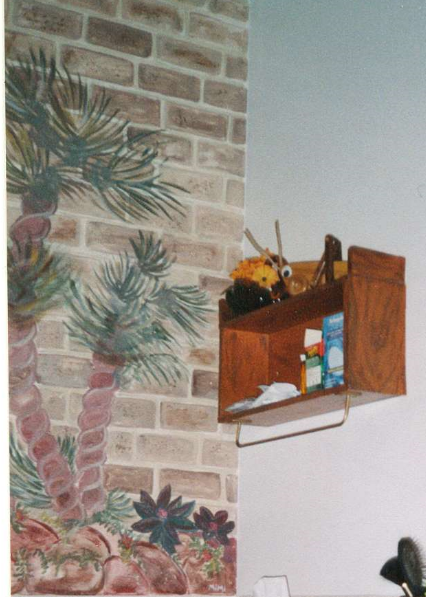 *
Autre mur de brique et végétation que j'ai peint dans sa salle de bain.
*
Another brick wall that I painted with some vegetation in his bathroom.
*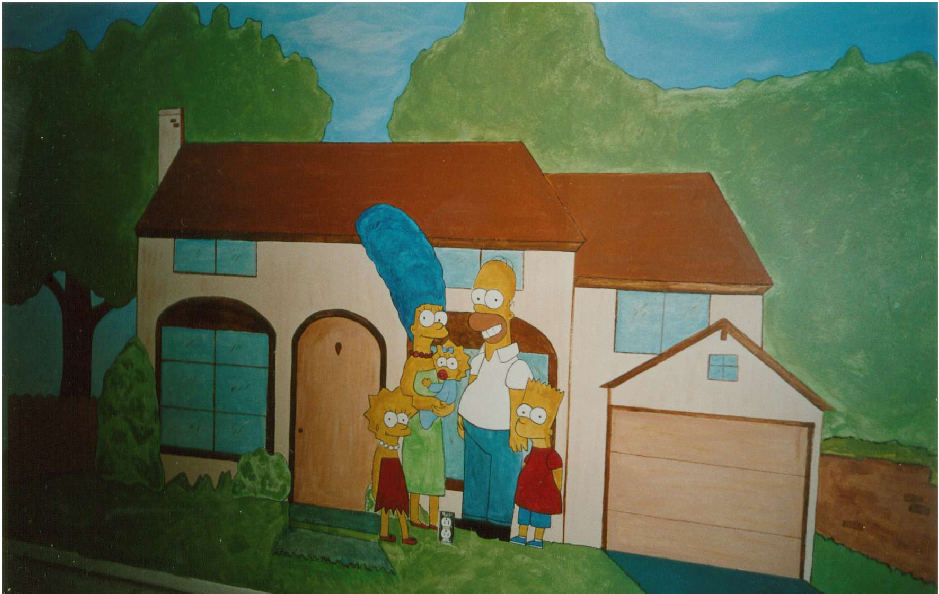 *
Une murale que j'ai peinte dans la chambre de mon neveu.
*
A murale that I painted in my nephew's bedroom
*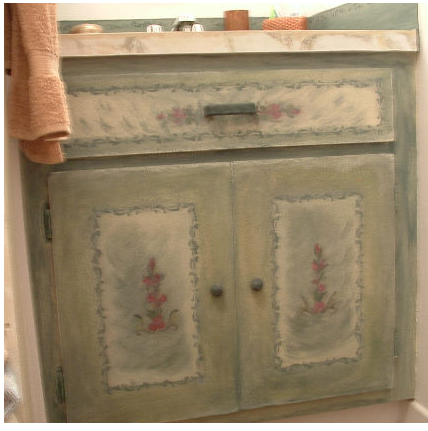 *
Vanité de ma salle de bain que j'ai retapée tout en dessins
*
The vanity of my bathroom that I renewed with drawings.
*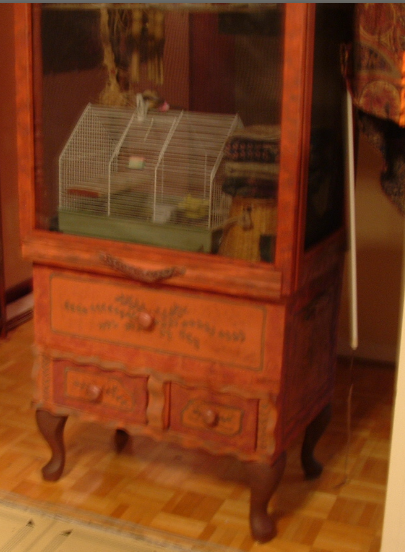 *
La partie du bas d'une cage d'oiseaux en bois que j'ai construite pour mes calopsittes. Les deux tiroirs du bas ont été faits avec 2 petites colonnes de son en bois dont j'avais vidé les hauts-parleurs et la devanture. J'avais acheté les 4 pattes.  Elles étaient assez dispendieuses à comparer à tout le reste (rires).
Cette cage, je l'avais fabriquéé avec, du bois, des moulures, du cuir et du grillage.
*
*
The bottom part of a bird cage that I made from scratch for my calopsittes. The 2 bottom drawers have been done with 2 little speaker boxes made of wood. I had removed the speakers and the front panel. I had bought the 4 wood legs and they were expensive enough compared to all the rest of the material (lol). I had built this cage with wood, mouldings, leather and netting.
*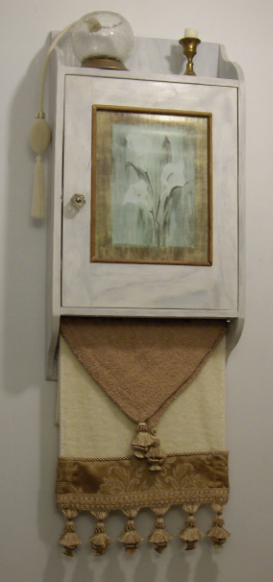 *
Une petite armoire antique que j'ai rénovée et décorée. J'ai remplacé le miroir cassé par une vitre et y ai mis un dessin.
*
*
A little antique armoire that I renewed and decorated. I replaced the broken mirror by a glass and I installed a drawing behind the glass.
*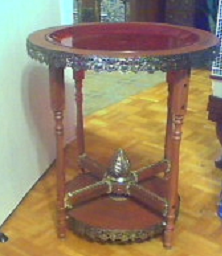 *
Voici une petite table de salon que j'ai fabriquée. J'ai acheté les 4 pattes, j'avais un plateau rond rouge et voulait le mettre au centre encastré dans le dessus en bois rond. Nous avons pris les mesures et passé une toupie pour découper un cercle et on a fait un rebord creusé encore avec la toupie pour y encastrer le plateau. Les bordures métalliques en relief perforé m'ont été données par un ami qui collectionne des choses antiques. Ce meuble a été inspiré d'un des deux livres que j'ai mentionné un peu plus haut.
*
*
Here is a little round table that I built for my living room. I bought the 4 legs, I had a red round plate and I wanted to install it recessed in the round piece of wood so we used a router and cut a circle in the wood , but we left enough space surrounding the round hole for making a circular groove all around the hole so that the edge of the red plate would lie on this groove a little deeper, around the hole. The dept of the groove was calculated as the space needed to make the highest area of the plate just equal to the top of the table. The surrounding metallic mouldings were given by a friend who is collecting antiques and they suit the edge of the table just fine. I took the inspiration for this little furniture in the book that I mentioned a little earlier.
*
*
J'ai fait aussi, de par les années, des bijoux médiévaux et des items gothiques, le travail du cuir que j'avais mentionné un peu plus haut m'a permis de fabriquer beaucoup de belles choses et j'ai aussi travaillé dans la mode. Je concevais des vêtements pour une petite entreprise qui récupérait des vêtements hauts de gamme. Je les défaisais et agençais des pièces ensemble, créait de nouveaux designs originaux en y ajoutant des perles, de la dentelle et ainsi de suite.
*
*
Trough the years, I also created many medieval jewelry and gothic items. I used my skill at working with leather and I had also worked in the fashion industry where I was creating clothes for a little business. They were recycling expensive clothes and I was dismanteling them and used the pieces to match them with other pieces of fabrics and I was creating some new original designs adding pearls, laces and so on.
*
*
Plusieurs des techniques que j'ai apprises et développées au cours de mon cheminement me servent aujourd'hui à créer mes figurines. Techniques de peintures, de vieillissement, la mode, la coiffure, le maquillage, le dessin et j'y ai ajouté des techniques de lissage et de sculpture ces dernières années, ainsi que de travailler avec de nouveaux matériaux, les différents plastiques.
*
*
Visitez mon site web personnel à l'adresse ci-bas:
*



*
*
http://www.chezmimibienvenue.com/chez_mimi_bienvenue.ws
*
Many of the different techniques that I learned and developped at different moments in my life are very useful for me today when I create my figurines. Techniques of painting, of weathering, fashion, hairstyling, make up, drawing and in the last years I just developped my techniques of sculpturing and smoothing the plastic paste by sliding a wet knife or some tiny spatules on it before it hardens, and also work with different kinds of plastics.
*
You can visit my personal website (in french only) at the following address:
*



*
*
http://www.chezmimibienvenue.com/chez_mimi_bienvenue.ws
*
*
Mimi