1/5 scale or 16 inch figurine blank head turned out gorgeous
Not long ago, I had the opportunity to get a Fashion Royalty blank head for a figurine named Hanne Erickson. They call these 16 inch dolls "FR: 16" (Fashion Royalty, 16 inch). I got the head at a ridiculous amount (compared to its value on the market).  I had already a picture of what I wanted as make up, hairstyle and hair color. The expert who is always working on my figurine heads is of course, my best friend Mimi. She really has the talent to turn out any head into an amazing beauty, so here is the stunning work that she has performed on it. These FR 16 figurines are, of course, taller and bigger than the regular FR6, 12 inch Fashion Royalty figurines (or dolls, as they like to call them).
*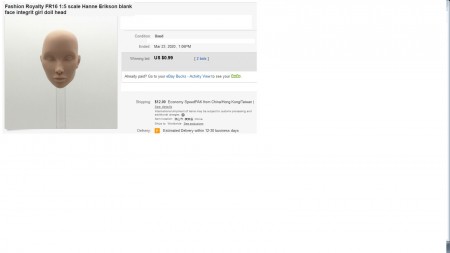 *
Please, click on every picture to see them fullsize.
*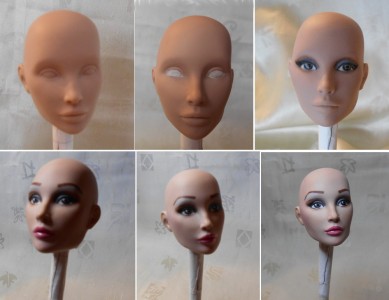 *
The first steps of the work.
*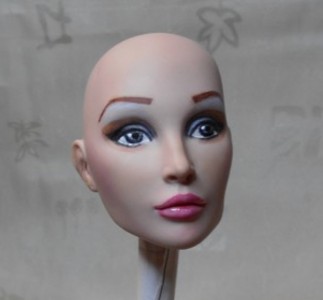 *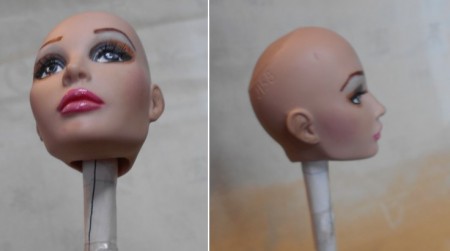 *
This unbelievable Mimi is also making hilashes with sewing treads.
*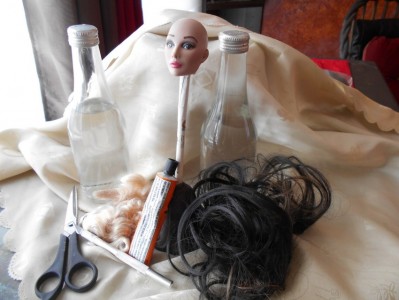 *
The way she's making her hilashes. She puts a tread between the top of 2 bottles and installing tread by tread on the one going from one bottle to the other. You can find similar techniques on Youtube.
*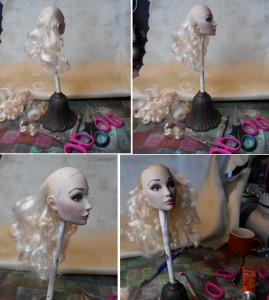 *
The beginning of the crafting of the permanent wig glued to the top of the head. No punctured holes and rooting of little bunches of hair. No "broom" look on sides of the head where the hair is starting. It has to be done step by step and pieces by pieces, a bit like the way that we put shingles on a roof.  The final look is always stunning.
*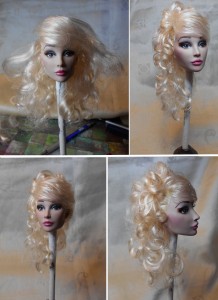 *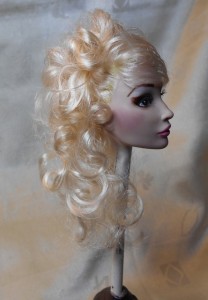 *
More hair had to be installed coming closer to the right eye after this picture was taken.
*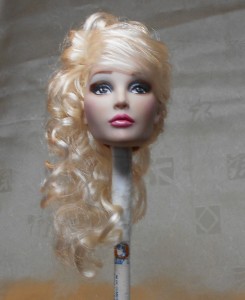 *
Here is the finished hair job.
*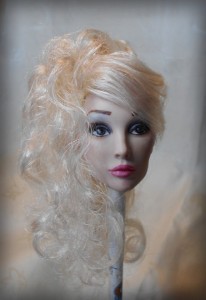 *
I asked her to move more hair just at the corner of the right eye.  I love when girls have an hairstyle like this.
The little newborn baby grew up as a stunning beauty!
*
*
Here is the reference of the picture that I found on Pinterest. Boy, had to make many researches to find her back. I couldn't find her anywhere. I had forgotten to copy the internet address of the picture. Even on Pinterest I had to start over several times before I could find her :
https://www.pinterest.ca/pin/676947387723649401/
*
I knew that this figurine was produced by Fashion Royalty and her name was Hanne Erickson. The release was called "Afterhours" but the one that I wanted to find had a modified hairstyle. She looked more beautiful than the original hairstyle of this particular rendition (up to my personal taste). My blank head was crafted by my friend Mimi with the same hair color and it carries a very similar hairstyle. This is what I asked her to do. The makeup has been done to look alike the original figurine but Mimi chose another tone of pink color for the lips instead of a very light pink, more whitish that we can see on the original "Afterhours" release. She didn't tell me and made me the surprise to see what I would think of it. Well… I wanted what I asked her to do… but when I saw what she had done… I found both colors of lips beautiful. She was as beautiful as what I wanted, but a bit different. I was, nevertheless, very happy of her personal touch. She is even more unique than the original "Afterhours" version. The picture above shows Hanne – Afterhours in her original outfit and makeup but with a modified hairstyle. I found her so lovely that I wanted one for myself. I would like to give credit to the person who created this beautiful hairstyle. The link goes to Pinterest but we can read that it should go to a Flickr account. The page doesn't exist anymore. Sad story.
*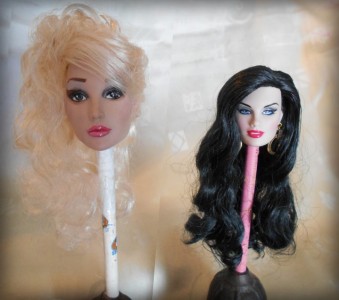 *
Here is a comparison of  2 heads. They are placed one besides the other.  No one is more forward or backward. The biggest one is from a 16 inch doll head (said to be 1/5th scale). The smallest one is from a 12 inch figurine, said to be 1/6th scale. The 16 inch dolls line, has been discontinuated by the maker, Fashon Royalty. Sad, because they had produced many beautiful figurines into this scale.
*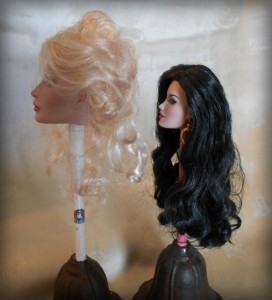 *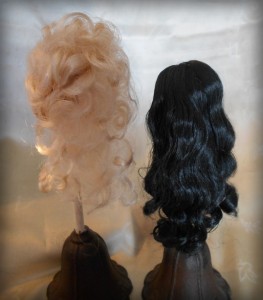 *
The smaller head belongs to a Fashion Royalty doll called Katy Keene – and this particular release carries the name "Shimmering Dynasty". This is another handsome head. That one is totally genuine, no modification to the makeup and hair style.
Any comment or questions, please ask.
florent.beauchemin@gmail.com