The stunning Lola – a Full size figurine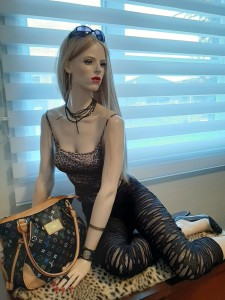 *
Please, click on the pictures to see them full scale.
See other of them in the bottom of the page
*
Well… This particular page is a bit outside of the usual topics of this website. It's not really something miniature… not at all, to write frankly. but it is nevertheless toutching the field of the figurines… but nothing miniature.
*
The story started around 2½ years ago (at the time that I wrote this article, probably by summer 2018, I believe). My good friend Mimi was telling me that she would like to find a nice female mannequin to put in her bedroom as a decoration. We have been modifyng and crafting figurines since several years and the idea of a figurine of life like stature would be an excellent idea as trough the years we had started with the tiny 1/25 scale figurine (as we call them in the scale modelers field). As I am the one who introduced this passion to Mimi over 12 years ago, we have been working on bigger and bigger scales, passing from 1/25 to 1/16 for a short period, then going higher on the 1/12 scale, then to the 1/8 shortly enough. A few years back, when I discovered the "dolls" (still figurines in my opinion) from Integrity Toys (I hate the fact that they call so beautiful figures "Toys"). Very expensive "Toys" for grown kids, in a very fact. So, because of that Mimi and I skipped to modify and craft figurines into this 1/6 scale. Integrity also produced some stunning 16 inch "dolls" said to be by many into the 1/5 scale area. As a scale modeler, I work on precise scales and it is not rare that I use machinist precision measuring tools to be as precise as possible when I work on a particular scale. Of course, figurine of a human being, an animal, a tree could be into some various and close scales and could be taller or shorter depending on the scale you decide it will suit. When it comes to let say, a specific car model mass produced by a certain car maker, the car itself must be the thing that determine the exact scale where you want to place all the different items in the diorama that you are building. If you decide to craft many other objects and they are not faithfull copies (generic items) of an object that is in existence in our 1:1 scale (life like or full scale as they say), you can vary the dimentions a bit as far as they don't look out of proportions for the intended scale.
So back to the story of Lola, as I was visiting Mimi, I took her second computer and went to look on Kijiji for a female mannequin. During my searches I showed her a few of them that I thought were acceptable for her project. She was busy doing something else, I don't remember what. Then I fell on this very special female mannequin. The woman copy had a wig with short hair, it was dressed, had a nice looking face. Surprisingly, she was not standing up, but instead, she had her 2 legs lying on the floor, her 2 hands were also on the ground, but the rest of her body was mostly standing up, her head straight up. The pose was amazing, really unconventionnal. I called Mimi to grab her attention and asked her to come and look at my find. We looked at her and discussed of what she could become with a bit of work. I contacted the lady who was selling her. She was a professional hair dresser, a business woman and she owned a couple of hair dressing stores. She told me over the line that many people were interested. Another lady was begging her to wait that her husband would come back from work to go and buy the beauty. She told her "First come, first served". Another one wanted to bargain the price or wanted her to wait that she could find the rest of the amount. She told me a bit of the story about the mannequin. She had bought it years ago from a man who had bought the mannequin when the high end Eaton store closed, in downtown Montréal. The beauty was lying beind the tall glasses on Ste-Catherine Street, where it is surrounded by sky scrapers. Ste-Catherine is constantly a very crowded street, probably the most of all Montréal. Eaton stores were renound for selling quality items and nevertheless, their mannequins were of high end too. The lady told me that the guy who sold it to her had paid around $1,200 for the female statue, if her memory was correct. She was selling it for $250. "NOT LESS".
As I was on the phone with her, I told her that I was not going to try to offer lower than what she expected. I had the money and I was ready to leave for her place in the next minutes. I told her "You are in the west end and I am in "RDP", in the east end, I guess the time to reach your place by highways, and streets, I believe that it will take me approximately one hour to be there… depending if I hit some trafic jam somewhere. I'll be there, I am leaving very soon, I have the money in my wallet".
When I arrived at her place, she lived in a beautiful loft. The façade was made of tall and wide commercial glasses. Store glasses, as you may call them. I could see a hair dresser chair, a sink where they wash hair of people. 2 enormous posters of a guy and a girl, each of them 4 feet wide by 8 feet tall on a wall around 12 feet high. Black and white retro style pictures of young peoples with nice hairstyles. It was a very nice decor. Behind the tall glass, I saw that the beauty of mannequin was lying on a carpet, on the floor. This lady had a good taste, everything around was nice and clean. When I came inside, I met the woman. She was relatively young and nice looking. She asked me if my name was Florent, I said "Yes, I am the one". I looked at the mannequin. She had the stature of a tall woman, she was huge but very well shaped. If she would be standing up, she would probably fit in the 6 feet tall range, or a little more, plus her high heels.
I found her so beautiful that I have been tempted to buy her for myself. I had enough money of my own. I just would had to give back the money that Mimi gave me before I left. We made a bit of chit-chat, I gave the money to the lady, she gave me a receipt, then we had to dismantle the statuesque girl. She showed me where the joints were and how to twist them and I carried her in parts. My truck was just in front of the window and  I installed the babe in the back of my seat, in the extended cab of my vehicle, on some blankets. I was very happy that I have been the lucky guy who grabbed her before other ones came by. The girl told me that on my way to her place, some other people had called and were interested to buy the full size figurine. Even when I was there and had just boutht the girly, somedody called. She answered "I just sold her, the guy is taking her in his truck at the moment". Lucky I was, this day, just on time. The lady used to call her "Lola" because she told me that she looked like a young comedian / actress who was playing in a kind of french-canadian soap opera in the 90s, here in Montréal.
When I finally arried at Mimi's, she was very surprised when she saw the lifelike, big format figurine. Would we build anything like that one day?
Her too was surprised to see how she was wide and tall. On pictures, we never know exactly the real dimensions of an item. She is not a "Long tall Sally" style woman. She is very well proportioned, not skinny at all. Like one of these beautiful "femme fatale" character. I was pretty sure that Mimi could enhance her beauty. She is so talented.
I told the story, the origin of the name "Lola" to Mimi, so she kept calling her of the same name since then.
She remembered the young actress and I think, the name of the show, not me. I was not listening to these kinds of things. She made researches and found pictures and even vintage videos of the kind of soap opera for young adults she was talking to me about. It is true enough that she was looking alike the mannequin… or vice-versa.
*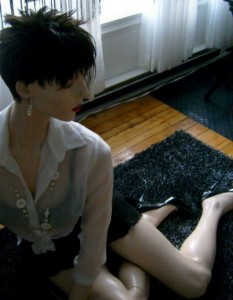 *
The above picture is the only one that we have of the plastic, full scale girl when we got her. It was from the advertising where I found her. She had this dark wig and a stylished kind of crown of hair on top of her head, I guess, she was a kind of "punkette" girl. For sure made by the professionnal hairstylist who owned it and sold it to us. A bit funny, Mimi has also been a professional hair stylist when she was younger. The outfit, shoes and jewelleries were part of the deal… but Mimi replaced everything.
*
Mimi did not like so much her makeup, she has repainted even the balls of her eyes to enhance her beauty. This is sad that we didn't think to take a picture of the original mannequin's face before she repainted her eye sockets and has redone a new makeup on Lola's head. We took a look at every detail on the huge figurine. Even her toes are well done. She is not a low quality mannequin. Mimi painted her toe nails also, the same color as her fingernails, her new lips color and the rest of the makeup.
*
The mannequin has a little piercing on her right hand side nostril, and a tiny golden ring in the in the very small hole, so she looks like a modern young woman. She had this already when I went to buy her. I am not sure but I think that the lady made the modification herself, if I recall proprely. I am not surprised because of the look of this young punkette girl.
*
Mimi bought some fake long nails and installed them on her fingers, then she filed them and painted them. They look so realistic. She also embellished her with some of her own jewelleries. She bought 2 or 3 other wigs for her, some more clothes and high heel shoes. This is funny to go to some stores like Value Village or the Salvation Army and buy outfits for a mannequin, just like for a real person.  Lately, I found a red wig, with long curled hair. It is in a bag in my truck. I told Mimi and she can't wait to see it on Lola. This is not the dark auburn one that you will see a bit further below. The wig is still in my truck.
*
I wonder who was the maker of this mannequin. Anybody would know? The following pictures have been taken at different periods of time, as months went by. The first pictures were taken on Mimi's bed. From time to time, she is changing her outfits, wigs and hairstyles.
*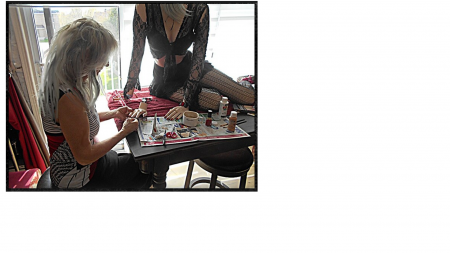 *
Mimi installing fake fingernails on Lola's hands.
*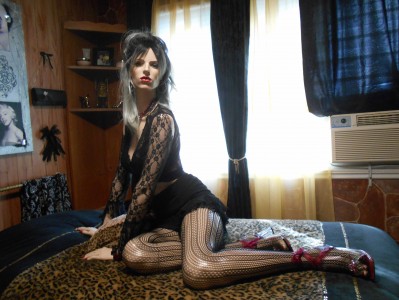 *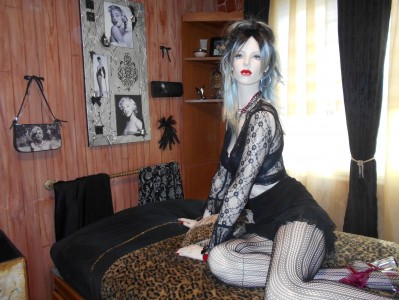 *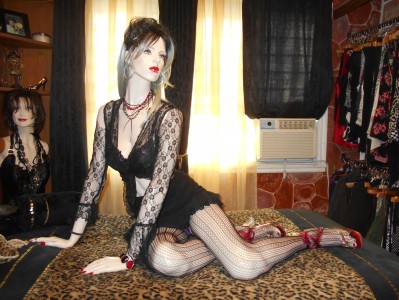 *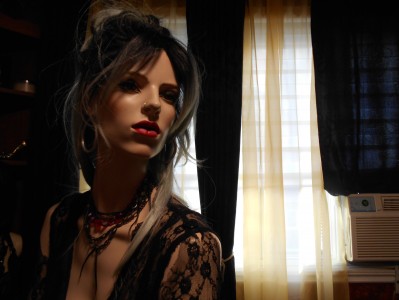 *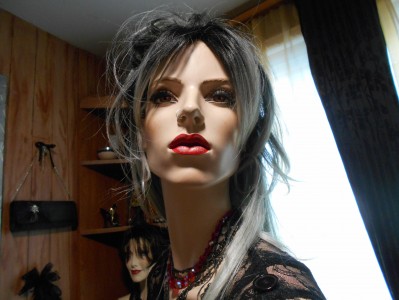 *
If you click on the picture to make it full scale you will see the piercing and the thin golden ring on her right nostril.
*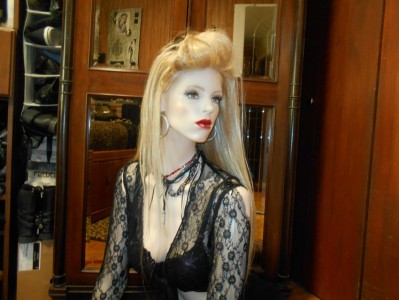 *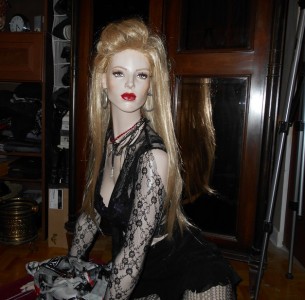 *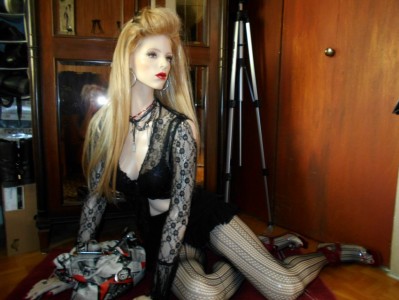 *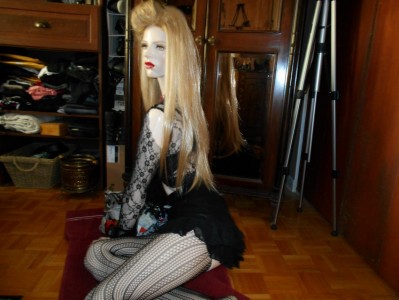 *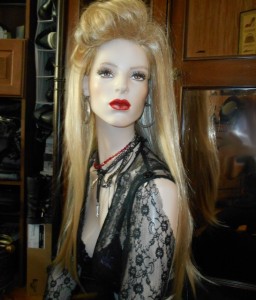 *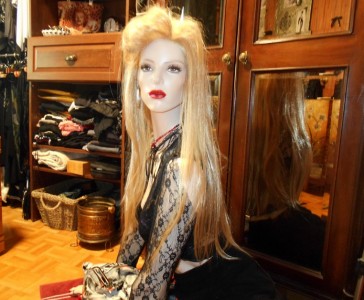 *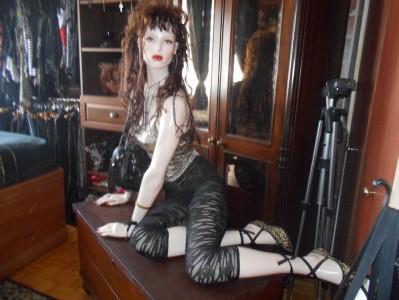 *
The beautiful Lola decided to try another hairstyle and color… What about a brown-auburn hair girl? As soon as she made the change, Mimi came across something else and fell in love with the following style! And me too.
*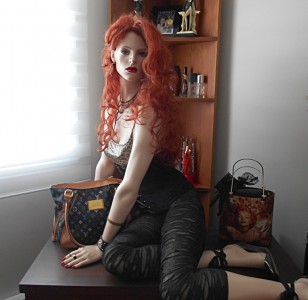 *
As days have past since I had started to write on this page, the above picture and the ones below show the new red hair wig that I had found for Lola. I GOT IT FOR FREE!!! This is the one that I like the most. It even fits good with the background furniture color.
*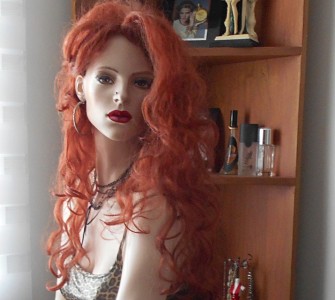 *
Wow! She is very beautiful. If you click on the image, you can see the magnified picture and take a look at the very nice work that Mimi made when she repainted the balls of the socket eyes on this human size figurine.
I have created this page a while ago but lately I had the idea to show you a job that Mimi made on a 1/5th scale blank figurine head that she painted.  you will see step by step how she is doing it. She is very gifted.
I will put the link at the end of this page.
*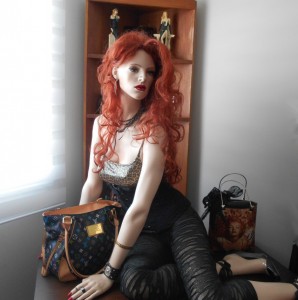 *
Below : We are now Feb 14, 2021. Mimi went to make some shopping in the last days. She wrote to me in a message that she bought new clothes for Lola. She sent me 2 pictures of her full size figurine redressed. Wow! She's even more stunning.
*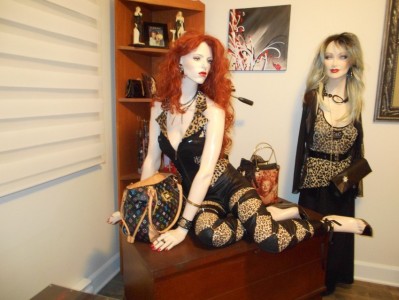 *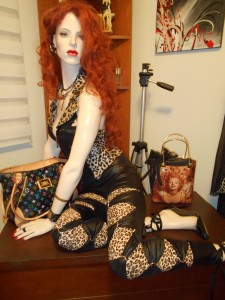 *
Looking at these last 2 pictures that I inserted in this post, I had the idea to use Lola in her new outfit for a cover of a feminine magazine. I happened to have a couple of them started already and they were sleeping in some files of my computer. That would be an opportunity to finish at least one of them and use this beauty of a full size figurine on it. Mimi would make a part of the job and I would do mine on my side. I contacted Mimi to talk to her about the idea. She found it great, so she prepaired Lola for some new shots with her camera. I asked her to include some new specific details to Lola and the way I wanted at least a picture or two. So the next day I got several new pictures coming by email. In the meantime I had been working on one of my magazine covers. I sent her a part of the work. It was the header of the magazine, a pure creation, a magazine that doesn't exist. I was satisfied of the graphics. the rest of the cover was the background, a gradient kind of beige color. I thoutht that this color would fit well with Lola in her outfit. The contrast with the color of her hair would be great too. Mimi would have to melt the picture of my choice with the cover. At this, she's a lot better than me. Once she would have done the work, including some new corrections that I would ask, I could be ready to add the rest of my titles around Lola and other little details. All the titles came out of my imagination. Then I had to play with a ton of different fonts, colors and adjustments of sizes of these titles… plus the creation of a bar code sticker, to make the thing looking more realistic. So look below, here is my magazine cover, a tipickly french style magazine. It took many hours of work to build this front page. Ths is apart the work done by Mimi  on the pictures and installing her girl with a bed on my cover sheet.
*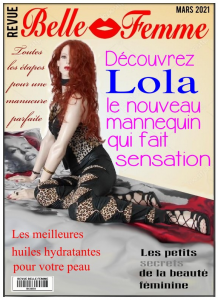 *
Well… I was satisfied of our work on the cover of this fictitious magazine of mine. The picture of Lola that I had chosen… well. I would say honestly that I had some regret about another picture. This other shot was taken from a slightly different angle and the hair hiding one of her eyes was not covering completely the eye and we could see more of her beautiful face. The problem on this shot was that one of Lola's feet was missing and the picture was stopping at her ankle. If a picture like this is acceptable for some folks, it is bothering me. Wy showing 95% of a person on a picture and it would be missing only a little part of her body? Mimi also had a crush on this last picture. The head comes from the shot that we can see 2 pictures above. Finally I asked her if she could try to find back the same setup but backing up a bit the camera to have the foot included in the picture. She tried but couldn't get the same picture. So finally she took both pictures and with her image editing Photofiltre X, she removed the wanted head and placed it on the other picture. The job has been so well done that we can't see any flaw on the final product. This is exactly what I wanted, so we are both happy about this last change. See below :
*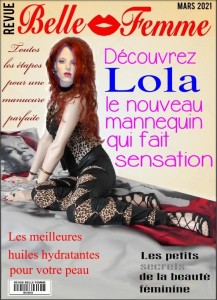 *
Please click on the image to see it full size
*
Click on the hyperlink below to see how Mimi is painting a 1/5th scale blank head, making the highlashes and also a permanent wig, gluded piece by piece.
http://montrealminiatures.com/?page_id=2475
*
Florent