Rebuilding a 1960 Falcon with a 1961 Ranchero – Reconstruire une Falcon 1960 avec une Ranchero 1961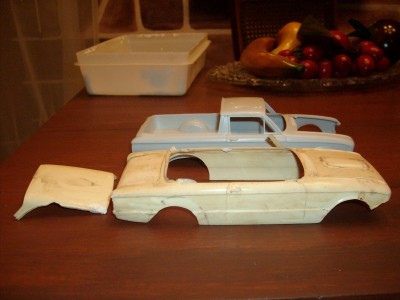 *
You can click on the pictures for full page view.
*
Vous pouvez cliquer sur les photos pour les voir pleine page.
*
A 1960 Falcon glue bomb with a broken roof and a brand new 1961 Ranchero.
*
Une Ford Falcon 1960 en état lamentable avec un toit brisé et une Ford Ranchero 1961 toute neuve.
*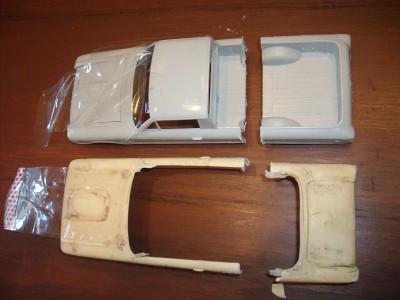 *
Cutting down the 2 cars. I made a jig to cut the 2 models precisely at the same place. The 2 wide pieces of clear tape were to hold the models in the jig. More pictures to follow as time and conditions will allow.
*
Les deux voitures coupées. J'ai fabriqué un gabarit pour couper les 2 modèles exactement au même endroit. Les deux pièces de raban gommé large ont servi à tenir les modèles dans le gabarit. Plus de photos suivront au fur et a mesure que le temps et le conditions me le permettront.
*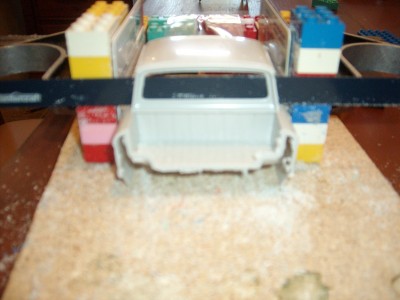 *
A jig made with some lego blocks, plastic cards and Scotch Tapes to hold everything into place. This is allowing a very straight and precise cut. The rear part of the Rahchero roof will be removed. The side panels are kept, so this is where I stopped my cut with the hacksaw blade. Only the back of the roof, back window frame and bottom of bed will be removed with an X-Acto style knife.
*
J'ai fabriqué un gabarit de coupe avec des blocs Lego, des cartes de plastique et du ruban gommé pour tenir le tout en place. Ceci permet une coupe très rectiligne et très précise de la partie arrière du toit. J'ai arrêté ma lame de scie à métaux juste où elle se trouve, ne voulant pas couper les panneaux de chaque côtés. Les contours de la lunette arrière, le reste du fond de la benne et pièces de panneaux intérieurs vont être découpés avec un couteau de style X-Acto.
*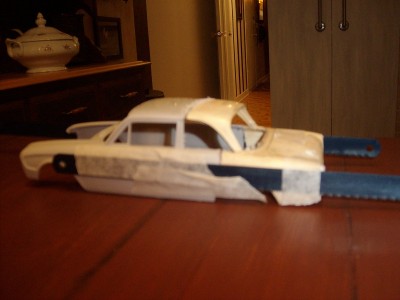 *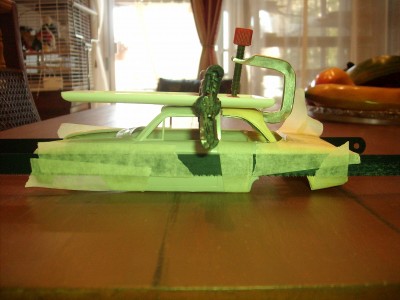 *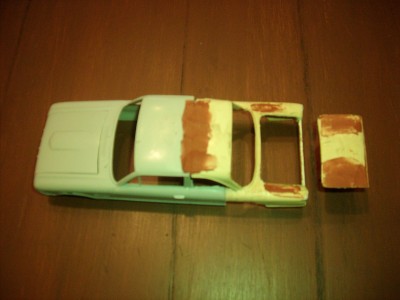 *
I also, opened the truck lid with my Olfa knife
*
J'ai aussi, découpé le couvercle du coffre arrière avec mon couteau Olfa
*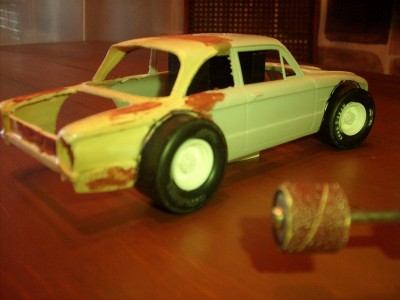 *


*
Thanks to Mimi for this amimation called a "gif" in the computer graphic fiedl.
*
Merci à Mimi pour cette animation appelée en infographie un "gif".
*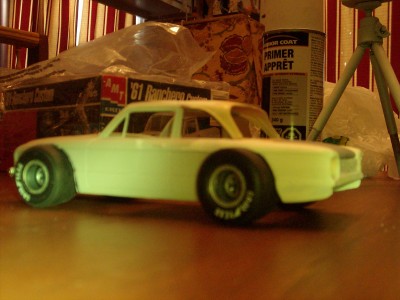 *
The body partly primered in white.
*
La carrosserie avec sa couche partielle d'apprêt blanc.
*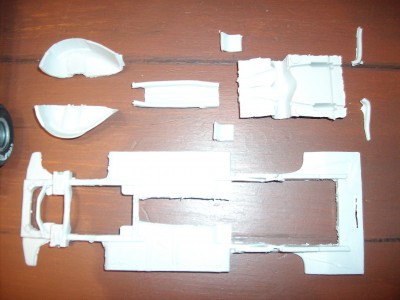 *
I used the floor / Chassis of the Ranchero. The only significant difference is that it is a bit longer at the back of the rear wheel, but the wheelbase is the same. I will cut the excedent part of the frame at the back. I Removed the unwanted parts on the unibody frame/chassis. Removal of the ugly transmission / drive shaft tunnel, really not accurate and almost flat, removal of molded-in double exhaust system along the edges of the tunnel and removal of the molded-in rear end. The inner fender wells are always removed on these types of Stock Car racers, so I cut them off too.
*
J'ai utilisé le fond de la Ranchero qui n'avait comme différence que l'échappement double et l'arrière un peu plus long mais l'empattement étant le même que celui de la Falcon. Je n'aurai qu'à couper l'excédent du châssis à l'arrière complètement. Les pièces du fond monocoque non voulues sont découpées et enlevées l'affreux tunnel de transmission / arbre de transmission mal moulé, à demi-plat et à même le fond de la voiture. Les échappements également moulés en place sur les rebords du tunnel et le différentiel moulé aussi à même le plancher sont aussi découpés et enlevés. Les constructeurs de ce type de voiture de courses enlevaient toujours les 4 fausses-ailes.
*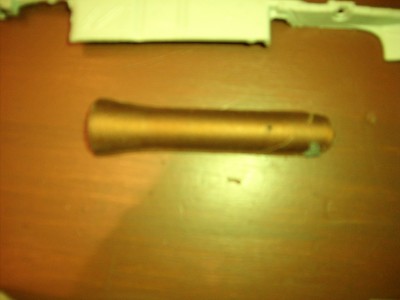 *
The new transmission / drive shaft tunnel, cut from the floor of an old '57 Chevy kit from Revell.
*
Le nouveau tunnel de transimssion / arbre de transmission, découpé du plancher d'un ancien kit de Chevrolet '57 de Revell.
*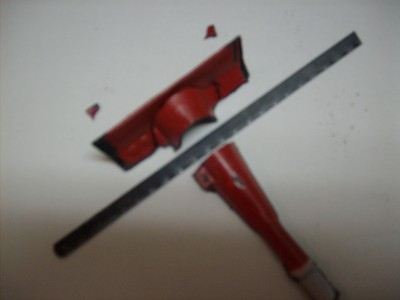 *
Firewall and tranny tunnel cut from the tub of a '66 Chevelle from Monogram (flip nose steet machine).
*
Mur de feu et tunnel de transmission découpés d'une gamelle provenant d'un kit '66 Chevelle "Flip nose" de Monogram.
*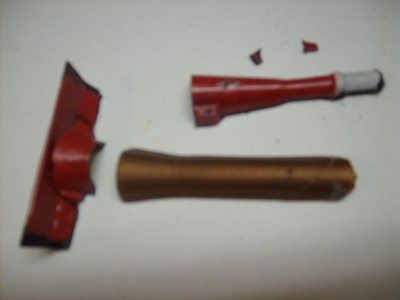 *
The 2 new parts to be adjusted and glued together.
*
Les 2 nouvelles pièces à ajuster ensemble et à être collées.
*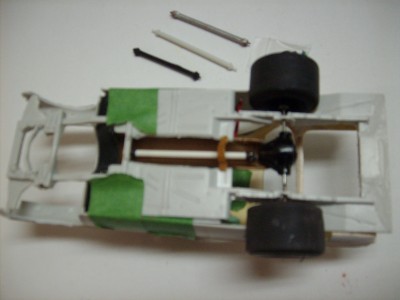 *
I wanted to keep as much as possible of the original floor (the original fine lines embossed in the floor). The new tunnel installed temporarly, a drive-shaft, drive shaft safety loop, a new race rear end but need its 2 tubes (sorry for the blurred picture).
*
Je voulais conserver la plus grande partie possible du fond d'origine, avec les lignes fines en relief. Le nouveau tunnel de transmission /Arbre de transmission installé temporairement ainsi qu'un arbre de transmission, arceau de sécurité pour l'arbre de transmission et un différentiel de compétition qui a besoin de ses 2 tuyaux (désolé pour la photo floue).
*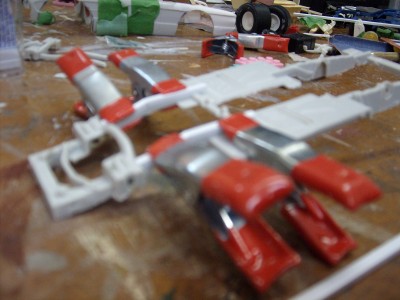 *
The front sub frame being reinforced with 2 strips of styrene.
*
La partie du châssis avant étant renforcée avec des tiges plates en styrène
*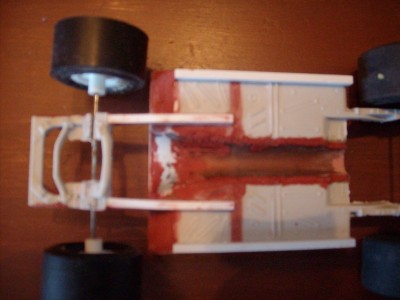 *
2 square tubbings installed along the edges of the floor panels, acting like reinforced rocker panels. They will be used as frame connectors. Some other parts have to be done to connect the front sub frame to the rear one. This technique was regularly used when race car builders were crafting frame connectors to transform a unibody car to a full frame race car. Other car builders would remove the original subframes and replace them by a full frame taken form another model of car and even sometimes pickup truck frame. They were also cutting the full frames, shorten them and welding the 2 halves together to suit the original wheelbase of the new body.
*
2 tubes carrés ont été installés sur les 2 rebords du plancher, agissant comme des renforts de bas de caisses. Ils seront aussi utilisés comme raccordement pour les 2 parties de châssis monocoques (avant et arrière). Cette technique était utilisée par les constructeurs de voitures de courses pour transformer les voitures monocoques en châssis pleine longueur, offrant beaucoup plus de solidité aux voitures ce courses.
D'autres constructeurs optaient plutôt pour se choisir un châssis pleine longueur provenant d'autres modèles de voitures et même parfois de camionnettes. Si nécessaire ils coupaient le nouveau châssis en deux pour le raccourcir et soudaient les deux nouvelles moitiés ensemble pour ajuster le tout à l'empattement de la voiture sur laquelle ils installaient le nouveau châssis.
*
More work to be done, adding front and rear adjustable suspensions, direction parts, gas tank, shock absorbers and removal of the rest of trunk floor panels (No trunk floors on Late Model Sportsman and Modified Stock Car racers).
*
Parmi les pièces encore à fabriquer il y a les suspensions ajustables avant et arrière, les pièces de direction, un réservoir d'essence, des traverses en tubes carrés et autres détails. Il me faudra aussi enlever les pièces restantes du fond de coffre arrière. Ce type de voiture de course n'en avait pas. On y retrouvait seulement que le châssis, des barres métalliques transversales, des amortisseurs et un réservoir d'essence fixé solidement aux barres de renforcement.
*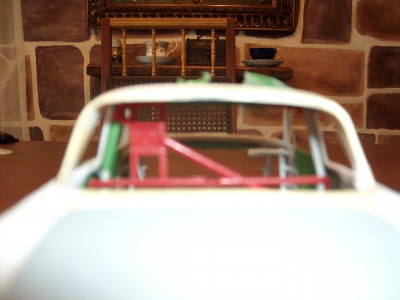 *
The starting of the roll cage construction
*
Le début de la costruction de la cage de protection
*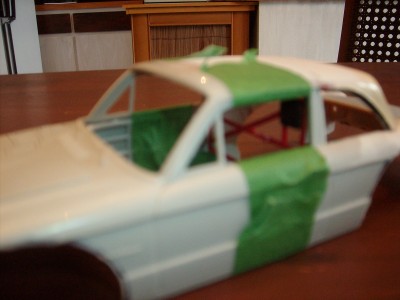 *
THE STORY OF THIS PROJECT
I had an old 1/25 scale 1960 Ford Falcon built kit. It had these long fender skirts glued on the quarter panels, a false wheel continental kit style on back panel, some louvers, a scoop glued on the hood, mirrors and plenty of custom parts all over, with a lot of glue. The body was plenty of dammages all over. It had never been painted.
*
L'HISTOIRE DE CE PROJET
J'avais un vieux modèle réduit déjà assemblé (kit à coller) à l'échelle 1/25 d'une Ford Falcon 1960
On avait ajouté à ce modèle à peu près tout ce qui devait se trouver dans la boîte d'origine comme options de pièces de carrosserie "custom". On y avait déjà installé ces grandes jupes cache-roues arrières, des persiennes chromées collées et sur le capot, une prise d'air, des miroirs, des doubles antennes, un genre de roue continentale collée au centre du panneau arrière et sur le rebord du couvercle du coffre arrière. Il y avait eu surabondance de colle à styrène et j'ai dû briser plusieurs de ces pièces en morceax pour les retirer de la carrosserie et gratter le reste au couteau, sabler la colle et il y en avait un peu partout. La carrosserie était toute endommagée. Elle n'avait jamais été peinte.
*
Once I removed all these unwanted pieces, scraped the pieces of broken plastic parts with a knife and sanded the residues of old glue, I started to fix it with body glazing but realised that this poor little Ford Falcon was damaged beyond repairs. The old styrene plastic was so dried and crisp and very unfortunatly it slipped from my hands and fell on the floor upside down. There was already a broken roof pilar at the front and the 2 door pilars (a 2 door sedan model with door pilars) were already missing when I got the model. The result was a totallly broken roof and it went off the car. This was just enough to discourage me completely from trying to fix it. It ended up in a box for several years and once in a while, when I was opening this box again, I took a few minutes to take the pieces and place them together, looking at it from every directions and thinking of a solution to save this rare model since it never had been re-issued since it was produced in 1960.
On the other hand, AMT had re-issued several times its little brother, the 1961 Ford Ranchero (a Falcon pickup truck version).
*
J'ai commencé à réparer la carrosserie avec du mastic de finition pour carrosserie d'automobiles.
Un moment donné, par accident j'ai échappé le modèle par terre et il est malencontreusement tombé à l'envers sur son toit, déjà affaibli par un poteau avant manquant et les piliers du centre avaient déjà été arrachés avant que j'aie eu acheté le modèle (car c'était une voiture 2 portes sedan ou portes à poteaux comme on dit). Le plastique était très sec et le toit s'est complètement brisé et détaché de la voiture. Ça a été assez pour me décourager totalement de l'idée de reconstruire ce modèle et d'en faire quelque chose de bien mieux que ce que j'avais acheté.
Le modèle s'est donc retrouvé dans une boîte et il y est resté pendant des années. De temps à autre il m'arrivait d'ouvrir cette boîte et de revoir ce triste modèle que j'oubliais, puis d'en sortir les pièces, de les mettre ensemble et de l'inspecter de tout bords et côtés, de penser à une façon de le réparer, de sauver ce modèle rare qui n'a jamais été ré-édité depuis qu'il a été produit en 1960. Puis il retournait dans sa boîte jusqu'à la prochaine fois où je la rouvrirais à nouveau et recommencerais le même manège. Puis, il y a eu ce jour où j'ai pris plus de temps à penser. La compagnie AMT a ré-édité plusieurs fois sa petite soeur, la Ranchero 1961 (une Falcon en version camionnette). Je suis allé chercher un kit de Ford Ranchero 1961 que j'avais quelque part, et j'ai pris les 2 carrosseries en réfléchissant encore d'avantage et en commençant à tirer des plans.
*
So, after all my reflexions, my crazy idea was to take the 2 scale model kits and melding them together. I had 2 brand new Rancheros in their original boxes, they are not very rare to find on the market, so by inspecting both models (Falcon and Ranchero) in details from every angles I finally started to draw my lines on the bodies (in my mind) where I could cut them and take a part of the Ranchero and a part of the Falcon and make a nice Falcon out of the 2 models. I am a fanatic about old school stock car racers and my original plan was to build a nice Late Model Sportsman division race car with the Falcon. Oh! Of course I could had make a rusted junker with this very damaged Falcon, but no, I wanted a nice 1960 race car, so another crazy scale model project started. In fact, I was very tempted by the challenge of taking the 2 models and making a better Falcon with the 2 cars. It would have been a lot easier to buy another Falcon on ebay and I would had saved hours (and hours) of work, but the challenge was there and attracting me more than the second option. Still I wanted to save this little rare piece of collection and as I am cutting the wheel openings bigger in the fenders and quarter panels of the car (destroying some original lines of the body), I feel less guilty of doing such things on a still very beautiful and rare model kit. So, it was another reason to try to save my old damaged beyond repairs Falcon.
*
Après toutes ces réflexions, mon idée folle était de sectionner les 2 voitures et reconstruire une nouvelle Ford Falcon avec la plus grande partie possible de la Ranchero, qui elle, était toute neuve. Je possédais 2 kits de Ranchero encore neufs dans leurs boîtes d'origine. Ce ne sont pas des kits difficiles à trouver sur le marché. Ainsi, en inspectant les 2 modèles (Falcon et Ranchero) en détails sous tous les angles, j'ai commencé à dessiner des lignes sur les carrosseries (dans ma tête) où je pouvais les couper à des endroits précis et et finalement assembler les parties de l'une et de l'autre ensemble pour finalement reconstruire une belle Ford Falcon 1960. Ainsi il ne me resterait que la partie arrière de la voiture à finir de réparer. Aussi, au travers des années, la compagnie AMT, qui a produit la Ranchero, à perfectionné son kit d'origine en y ajoutant un capot qui s'ouvre, un moteur détaillé, un mur coupe-feu entre le compartiment moteur et l'intérieur de la voiture, des fausses-ailes et la partie avant du châssis un peu plus détaillée. Tout ce nouveau matériel n'a pas existé sur la Falcon qui n'a jamais été ré-éditée et donc jamais été améliorée. J'ai un très vieux kit d'origine de la Ranchero, et au départ le capot n'ouvrait pas, tout comme le kit de la Falcon. C'est au cours des années que les gens de la compagnie AMT ont décidé d'améliorer leur modèle Ranchero et y ont ajouté le capot qui ouvre et tout le reste que j'ai mentionné plus haut. Comme je suis un fanatique d'anciennes voitures de courses de style Stock Car, mon idée originale était de modifier la Ford Falcon en voiture de catégorie Late Model Sportsman (traduit ici au Québec par Dernier Modèle Sportsman). Il était nécessaire de découper les 4 ouvertures de roues plus grandes pour y installer les roues béantes dont ces voitures de courses étaient équipées. J'avais d'ailleurs déjà commencé à découper la Falcon des années auparavant, mais je n'avais que découpé les ouvertures de roues du côté conducteur. L'autre côté, je ne l'avais pas découpé.
En ayant acheté ce modèle Falcon très endommagé, ainsi je ne me sentirais pas mal à l'aise de découper un superbe et rare modèle qui aurait été en très bonne condition, que j'aurais pu acheter sur ebay au lieu de celui-ci. D'un autre côté il était si endommagé que je l'ai acheté à peu de frais. Il y avait, bien sûr, le risque de gâcher deux modèles si je ne réussissais pas, mais je suis une personne qui a beaucoup d'idées pour me fabriquer des outils me permettant de réaliser un travail bien fait, donc le risque est minimisé, si je prend mon temps, je pense beaucoup et anticipe les difficultés, les voit d'avance et les solutionne aussi d'avance. Bien sûr il se présente presque toujours des imprévus et je dois alors m'arrêter et repenser, trouver une nouvelle solution et en apportant de nouvelles modifications ou construisant un nouvel outil qui me servira à régler le problème. Tout ça fait partie du défi.
*
How a guy like me, suffering of chronic depression, can be involved in such things, I just don't know precisely, but I must keep my mind busy and sometimes when it is very complicated I have to concentrate on the problem, think a lot to find solutions and when it is the case, I don't have much time to think about the sad things of this life, the miseries, the problems of this society in the one I am living in. Things affecting me and making me suffer. I use to get discouraged so often, but there is nothing that I can do for this aspect of my life. Things are just what they are and I do what I can. If a model remains unfinished, who suffers of that? As far as I can be at least satisfied of the most interesting part (for me) of the project, I mean a particular challenge on a part of the construction. Sometimes I just don't know how I can succeed going trough a difficult step, but I end up doing it.
I took more than 200 pictures of different steps and different angles or different lightings with a non professional low buck camera and this one can't take pictures too close because they become blur (very frustrating for me), so if some pictures are bad, this is the reason. I coudn't make them better. This is it when you don't have the money to buy a good camera and appropriate lentil. A few years back my Nikon D40 broke and then there was no money to replace it, but sometimes, a blur picture is better than nothing. At least it gives an idea of the work.
The few pictures above are only to make a quick summary of the work done up to date. More pictures and explanations to come.
*
Comment un homme comme moi, qui souffre de dépression chronique, peut-il s'embarquer dans de telles choses? Je ne le sais pas de façon précise mais je dois garder mon esprit occupé et parfois quand c'est compliqué, ça demande beaucoup de pensées, d'esprit d'analyse et quand je pense à trouver des solutions, mon esprit ne pense pas trop aux choses tristes de la vie, aux misères et aux problèmes de cette société dans laquelle je vis, et qui m'affectent grandement et me font souffrir. J'ai l'habitude de me décourager si souvent, puis je ne sais comment, fonctionner tant bien que mal et mon passe-temps me réserve souvent de mauvaises surprises… mais il y en a aussi des bonnes et ça compense. Le plus important pour moi, c'est de réaliser les étapes qui m'intéressent le plus (les nouveaux défis), et si après cette étape je laisse le modèle en plan qui en souffrira et à qui j'aurai fait du tort?
Il m'arrive aussi parfois de me retrouver en plein projet, de me butter à un problème dont je ne trouve pas de solution (du moins dans l'immédiat) où même d'être à court de ressources financières pour acheter tel ou tel outillage ou tels ou tels matériaux. Alors le projet va encore dormir sur des tablettes ou dans une boîte.
Je me suis ramassé au milieu de ce projet avec plus de 200 photos, prises au long des différentes étapes, de différents angles et sous différents éclairages. J'ai utilisé un appareil photo qui n'est pas professionnel, un appareil bas de gamme et qui n'a pas de lentilles interchangeables, donc il ne peut prendre de photos de très près. Malchance car parfois j'ai vraiment besoin de photos prises de près, donc je me retrouve avec des photos floues et ça me fâche. Je me dis parfois qu'une photo floue c'est mieux que rien. Les photos ci-hauts sont un résumé rapide de toutes les étapes jusqu'à date.
Plus de photos et d'explications à venir.
Florent
florent.beauchemin@gmail.com